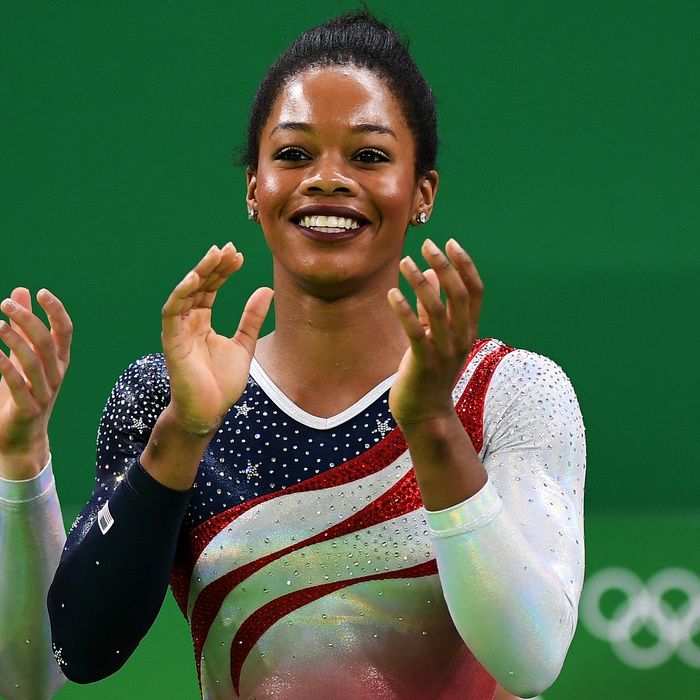 Photo: Laurence Griffiths/2016 Getty Images
Gabby Douglas has been on the receiving end of intense scrutiny and racism throughout her athletic career, but things have reached a fever pitch during the 2016 Rio Olympics. At the moment, Twitter trolls are viciously attacking the incredible gymnast for being unpatriotic because she didn't put her hand over her heart during the national anthem last week. Her mom, for one, has had enough.
Natalie Hawkins told Reuters, "She's had to deal with people criticizing her hair, or people accusing her of bleaching her skin. They said she had breast enhancements, they said she wasn't smiling enough, she's unpatriotic. Then it went to not supporting your teammates. Now you're 'Crabby Gabby.' You name it and she got trampled. What did she ever do to anyone?"
In addition to the attacks over Douglas's supposed lack of patriotism, Hawkins points out that her daughter was also criticized for not joining in on a standing ovation for fellow Final Five teammates Simone Biles and Aly Raisman when they snagged gold and silver medals.
"Gabrielle's had her heart broken, but she's determined she will go out [on Sunday] and she knows she still has a job to do for Team USA. It's a huge honor for me to be her mother as she's the bravest person I know," Hawkins said in the interview.