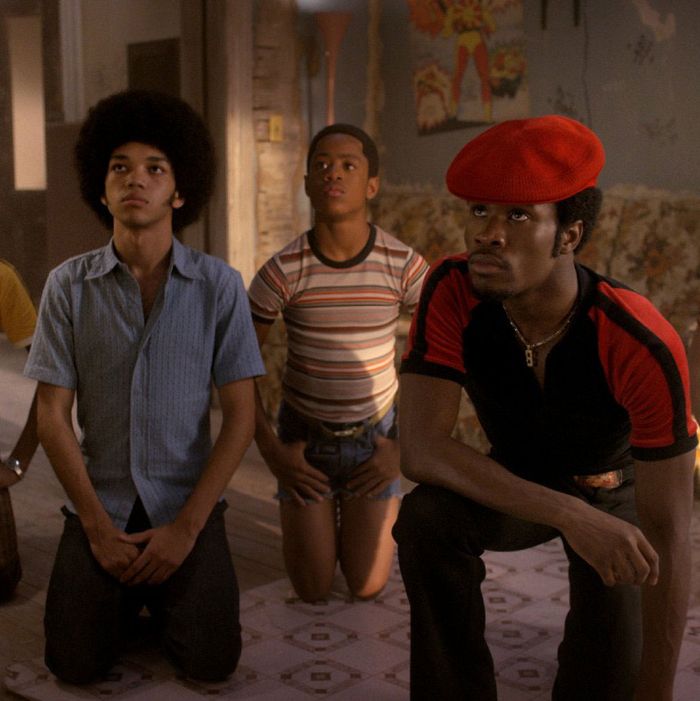 Photo: Courtesy of Netflix
The Get Down, Baz Luhrmann's new Netflix series about the birth of hip-hop in the Bronx in the late '70s, is not really a show about the birth of hip-hop in any historically accurate sense. Instead, it's a show about attitude: about grooves, about feelings, about myth-making, about funky bell-bottoms and perfectly-coiffed afros. It's a show about creativity — hip-hop, graffiti, dance, poetry — as a weapon for social change, reimagined as teenage superpowers. And, most of all, it's a show about a group of very, very sensitive teen boys. I love them all dearly, as if they were my own high-school boyfriends.
Our hero is aspiring poet and pianist Ezekiel (Justice Smith), an orphan (obviously) who wears his afro big, his lapels wide, and his heart on his sleeve. When we meet Zeke, he's pining for Mylene (Herizen F. Guardiola), who wants to be a disco star but whose strict pastor dad won't let her sing. In his single-minded devotion to love and expressions of that love, Zeke is the spiritual heir to Luhrmann's other sensitive male protagonists — Romeo in Romeo + Juliet and Christian in Moulin Rouge — felled by a crush so big that he can't help bursting into rhyming couplets, even when there's absolutely no call for it ("Mylene, Mylene, a butterscotch queen, this summer could you be my girl and I could be your king?" he recites as the show opens, gazing out the window. "When you sing, it's like how red velvet feels"). When Zeke eventually joins forces with aspiring DJ Shaolin Fantastic (Shameik Moore), his sensitivity will prove to be a gift: We know, because we see him as a successful adult rapper in the flash-forwards that launch each episode.
The 90-minute-pilot is a relentless outpouring of teen-boy feelings: Zeke wins a class poetry contest, encouraged by an inspirational English teacher to use his words to escape life on the streets. He engages in a lengthy and dangerous parkour chase through the streets of the Bronx to bring Mylene a record she likes, and nearly cries outside a club when the bouncer won't let him in to deliver said record. When Shao attempts to steal the record, Zeke proclaims that he would rather die than give it up: "I'm in love, man, do me a favor, put me out of my misery. When it comes to my girl, I'm all heart, I'm do or die." When he he finally does proclaim his love to her, she rejects him, because she has big dreams of escaping the Bronx and he's just a boy from the neighborhood who writes poems.
The rest of Zeke's crew (dubbed "The Fantastic Four Plus One") vibrate on similar Tumblr-ready emotional frequencies. They perform random poetic gestures, like leading Zeke up to the roof to set pigeons free and watch them fly. They say things like, "All of us here right now on this planet we're on a journey, and it is a mystery, who knows who's going to end up where, with who." And, in one case, they are played by Jaden Smith, patron saint of sensitive weird teens. Dizzee, the Jaden Smith character, is a tagger and philosopher-poet. The show's premise is that any creative outlet can be a means of escape and a medium of protest, and so naturally, Dizzee takes his graffiti very seriously. "For all of us, when we see our names on these trains only for a fleeting moment, we can say I was here," he muses. Tags are "constellations, breadcrumb trails of sparks that tell a story."
As you may have gathered from the synopsis, The Get Down is a pastiche of many other shows and films — Fame meets West Side Story meets The Warriors meets the whole Baz Luhrmann canon meets countless others — and it's also certainly not the first time we've seen the sensitive and creative teen-boy soul onscreen. But there's also a freshness in the way the subject matter is handled: Rarely have we seen a group of young men of color, all rendered with such style and flair, passionately excavating their hearts on the screen in front of us. Even though his role is small, Jaden Smith feels like the perfect avatar for this project, one that glorifies the soulful teenage outsider as cultural change-maker.
The show itself is a mixed bag, especially when grown men with feelings — like Jimmy Smits as a shady local politician trying to negotiate a housing deal — show up, feeling like characters out of an entirely different and less fun show. The Get Down, which cost $120 million to make and burned through multiple showrunners in the process, is lavish and overstuffed, a buffet spread too decadent to really enjoy. But how I love these teenage boys, who inhabit a parallel universe where feelings are noble, where love is poetry, and where teenage rebellion can spark cultural revolution if you simply put enough heart into it.