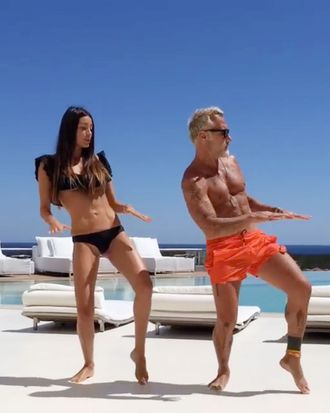 Gianluca Vacchi, dance sensation
Photo: Courtesy of Instagram/gianlucavacchi
Outdoing even the designers who are currently vacationing better than you ever could, Italian jet-setter, yacht-owner, and all-around-delightful weirdo Gianluca Vacchi is on a boat, and he's dancing like his life depends on it. The 49-year-old Vacchi, who's as tan as Valentino and nearly as fit as Olivier Rousteing, may not be a fashion designer, but he is a "lifestyle entrepreneur" of some kind, with a website selling long-sleeved T-shirts that say "Resilience" in Italian. (As with many lifestyle entrepreneurs, he's also independently wealthy, as an heir to the IMA fortune and a businessman in his own right.)
And did we mention? The man loves. To. Move. Vacchi and an unidentified companion have been cutting a rug on Instagram while afloat, and their dance routines have been going viral. Take a look.
It's truly the best boat-dance moment since this.
And if Vacchi looks familiar, it's probably because you saw him riding a horse shirtless with an (also shirtless) Zac Efron a couple of years ago. Living well truly is the best revenge.