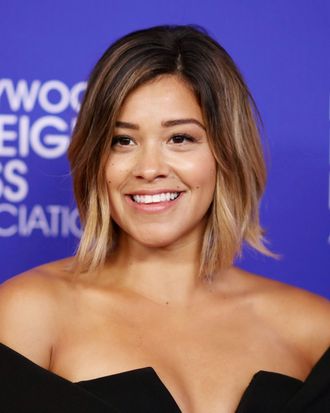 Gina Rodriguez.
Photo: JEAN BAPTISTE LACROIX/AFP/Getty Images
Gina Rodriguez is the kind of celebrity you want to see succeed. She's relatable without casting an air of phoniness; she's giving (she gave away her Golden Globes dress, for example); and at every turn she churns out uplifting soundbites on body positivity and being Latina in America. Ahead of resuming her role on CW's Jane the Virgin, she was announced as one of Clinique's "Difference Makers" — a campaign that showcases the brand's lineup of skin-care options. At the campaign's launch, she chatted with the Cut about her new dramatic haircut, what Jane the Virgin has in common with The Cosby Show, and why working out to strengthen your body doesn't mean that you can't love it as it is.
Your hair is so short now. And blonde! Are you going to keep this style for Jane the Virgin?
I eventually will have this hair for Jane. That's actually the only thing I can say about it.
Have you ever dyed your hair before?
No. I've never dyed my hair and I've never cut it. I've had the same hair for 20 years!
What makes you happiest about playing Jane Villanueva?
Jane makes me approach every decision I'm going to make, every interaction, differently than I had three years ago. Jane is so honest and patient and kind and always wants to give and is so family-oriented. She is who I ultimately desire to be like. Jenny has written this girl who is so strong, even in her faults; she's always trying to work harder.
Do you buy into the comparison that Jane the Virgin is the Cosby Show for Latinos?
Yeah. Without the whole recent controversy, that's not what I'm talking about. Growing up, the Cosby's were the closest television family that I could relate to. They were closest to my skin color and my family. They were positive, they were lawyers and doctors, and all their kids were going to school. Even in their faults they're learning from their mistakes and working as a family unit. That was my household! My eldest sister runs a private equity firm, my middle sister is a doctor. We had little resources and made a lot with them. What I needed to see was a Latina family and to know that I wasn't crazy and my household wasn't crazy. Other people deserve to know that we exist so they can have the freedom to exist in that world as well. The comparison is dead-on — maybe 20 years too late, but I'm glad we're here.
Why was it important for you to be a part of Clinique's Difference Makers campaign?
It was imperative that I align myself with companies that have a similar mind-set as myself. I always think about my life as a book I'm writing to tell my children. Every decision I make is not just about what I'm going to be proud of, but my family, my community, my ancestors, and those that are going to come after me. The reason that's so important to me is because I am the product of the help of all of these amazing people. I discovered at an early age the kind of woman that I want to be in this industry. It was one of service and giving because so many had done that before me and it was inherent in my DNA. It's what moves me. When Clinique came with this campaign, I was so honored that they would think that I would be one that's eligible to hold that title. They believed I was a difference maker. That motivates me. The same was with the Golden Globes. I was like, I don't know if if I'm deserving of this but you best believe I'm going to continue to prove that I could be.
These days everyone seems to have a take on wellness. What's your wellness philosophy?
I think a wellness philosophy is individual — there's no grouping of that. Seeking out what's going to make you the healthiest you — getting information about your body and what you need to create the healthiest you is individual and personal. You don't need to buy into any lifestyle besides your own and what best fits your body. That took me a while to recognize. I have Hashimoto's disease. I was diagnosed when I was 19. For me, it was a rejection of health. I didn't want to take medicine every day. I was like: They're just going to have to accept this curvy girl and if the industry doesn't like it then they're all terrible, but the only person I was hurting was myself. So I take my medicine. I stay away from gluten and soy and when I do my body feels the best. When I do 30 minutes of cardio every day my body feels the best. Same when I feed it fuel and drink water. Creating a wellness plan for yourself without comparing it to anyone else's is the best thing you can do for yourself. Knowing your body. Knowing what makes you feel beautiful, doesn't belong to anyone but you. My wellness philosophy changes. Discovering that is a journey. The coolest thing I've learned is that I can love my body today, but can still desire to get stronger and get more fit. That mentality has changed the way I walk in my skin.
This interview has been edited and condensed.