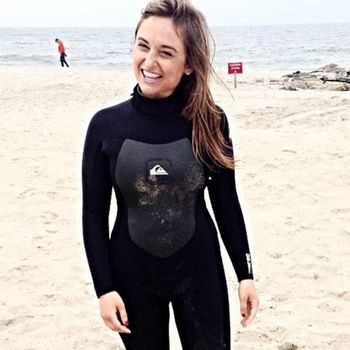 Vanessa Marcotte.
Photo: v_marcotte/Instagram
On Sunday afternoon, 27-year-old Vanessa Marcotte left her mother's house to go for a run and never returned. She was found dead hours later in the woods of a quiet Massachusetts town. Her death marked the third killing of a female jogger in nine days, though police say the tragedies are unrelated.
Vanessa Marcotte was a Google account manager in New York and a graduate of Boston University. Last weekend she'd been visiting her mother for a few days in Princeton, Massachusetts, a small town about an hour's drive west of Boston. On Sunday at 1 p.m. she left the house to run along a two-lane road lined by trees. A police search began around 4 p.m. when she didn't return, and ended in the woods at 8:20 p.m., a half-mile from her mother's house, where Marcotte was found dead.
Officials refused to reveal specific injuries at a news conference on Monday. The initial investigation shows Marcotte was killed — the town's first murder in 30 years. Authorities are still working to determine if it was a random killing and if she was sexually assaulted.
Of several worried Princeton residents who spoke with the Boston Globe, one father said his two young daughters often jog in the same area. "People run all the time," he said. "This town is very safe."
In a statement, Google remembered Marcotte as "a much loved member of the Google team … known for her ubiquitous smile, passion for volunteer work, and love of Boston sports."
The district attorney said there is "nothing at this point" to connect Marcotte's murder to the killing of 30-year-old Karina Vetrano in New York last week. Vetrano was murdered on August 2, after leaving for an early evening jog, in a Queens park known as a "dumping ground" for bodies and a meeting place for teen dirt-biking, homeless camps, and religious-sect rituals. Vetrano's father, who ultimately discovered her body, had previously warned her to not run there alone, according to the Daily Beast.
Three days before Vetrano's death, 31-year-old nurse Alexandra "Ally" Brueger was shot and killed in Michigan, on July 30, during an afternoon jog on a gravel road.
Police are still searching for suspects in all three unconnected murders. "There are some similarities — female, jogger. There are also major non-similarities to that case," NYPD deputy chief Michael Kemper, who is investigating Vetrano's murder, said of the Vanessa Marcotte investigation on Monday night. "We are comparing evidence, we are comparing notes; simply put … we don't believe there is a connection. With that said we are going to continue to share notes and share evidence as both cases progress."
Police have created a tip line for any information: 508-453-7589.