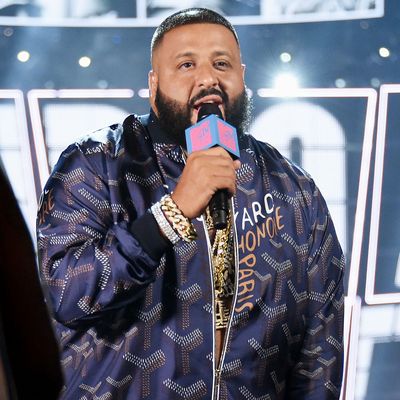 DJ Khaled in not-Goyard.
Photo: Mike Coppola/Getty Images for MTV
DJ Khaled, the bard of self-care, hit the VMAs in a snazzy Goyard-logo jacket Sunday night. If you were watching and found yourself thinking, "Where can I get something like that?" the bad news is, you probably can't. WSJ "Off Duty" men's fashion editor Jacob Gallagher gamely rounded up some examples of the notoriously private house's social-media manager responding frantically to fans' questions about the piece.
"Not at ALL an official Goyard item, that's for sure, and most likely a total fake," one tweet says, striking a note between emphatic and totally ambiguous. "Hopefully DJ Kahled used genuine Goyard silk scarves, out of respect for Goyard and as not to promote counterfeiting," they added in a more tempered statement. Then the tone turned to more Trumpesque locutions.

As Khaled might say, They don't want us to have real Goyard.