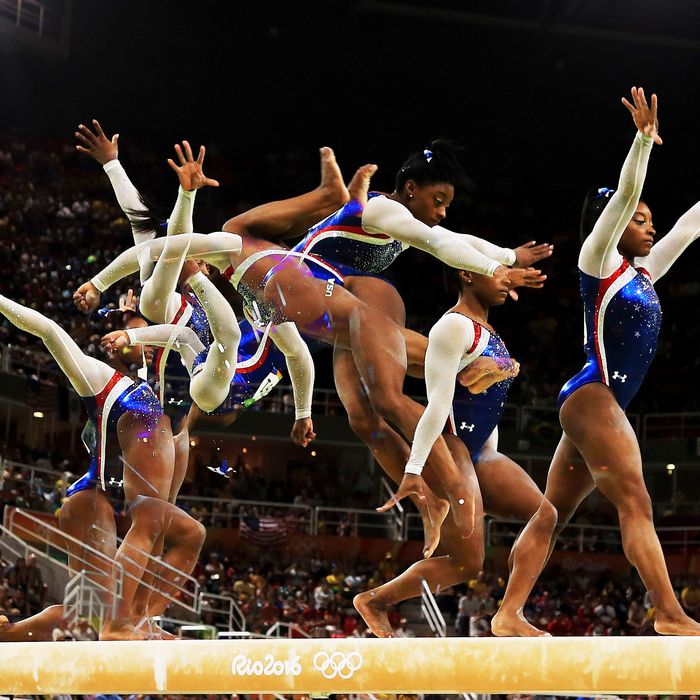 Simone Biles in the all-around final.
Photo: Mike Ehrmann/Getty Images
Simone Biles won the individual all-around gymnastics competition at the Rio Games today, crushing the field and becoming the first woman in 20 years to hold the world and Olympic all-around titles simultaneously, and the first American woman ever to do it.
Biles has won the world-championship crown three years in a row — the first-ever woman to do that — essentially ruling the gymnastics world since the London Olympics, where she was too young to compete. Winning even one more medal would make her the most decorated American gymnast of all time; she's favored to win three. And she's only 19 — we could see her again in Tokyo in 2020.
That's a lot of firsts and superlatives; many people now call her the best gymnast of all time. Here's a look at Biles's dominance since turning pro in 2013.
4
Number of consecutive U.S. all-around championships Biles has won (2013 to 2016), making her the third woman to do so.
10
The number of world-championship gold medals Biles has won, the most ever by a female gymnast. She was also the first black gymnast to win the all-around title at worlds.
14
Her total world-championship medal haul (including two silver and two bronze), the most in U.S history, surpassing Shannon Miller of the Magnificent Seven.
2.100
Biles's winning margin today. As 2008 all-around champ Nastia Liukin recently told the New York Times, "normally the separations between first and second place could be three-tenths or five-tenths and she goes out and wins by one or two points." Liukin won her medal by 0.600 points, and Gabby Douglas won hers, in 2012, by 0.259.
1
Namesake skill, which she does on her second tumbling pass on floor exercise. The Biles is a double layout with a half-twist at the end, forcing her to land blindly. She also does the hardest balance-beam dismount in the world: two back flips to a full-twisting double back somersault.
6.8
Biles's difficulty score on floor exercise in qualification. She has done a 6.9, most recently at the 2016 National Championships. Raisman, the 2012 gold medalist in the event, was the next closest in qualifying with a 6.6. Biles also had the highest difficulty score on beam at 6.7; two women do a 6.5. There was a three-way tie for vault difficulty, but no one flies as high as Biles does on her Amanar vault.