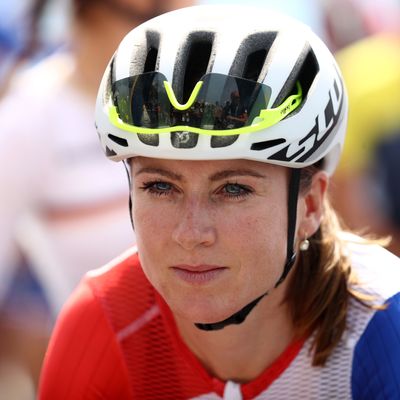 Annemiek van Vleuten.
Photo: Bryn Lennon/Getty Images
Does the sexist coverage of female athletes at the Olympics have you down? Well, bolster yourself with the paragon of toughness that is 33-year-old Dutch cyclist Annemiek van Vleuten — who endured a horrible crash in the women's road race yesterday, which left her with three fractured vertebrae and a severe concussion — not to mention the exemplars of team spirit and sportsmanship that were every other cyclist in that perilous race.
If you don't gasp in shock watching van Vleuten's crash, you may not be human. Fifteen kilometers from the end of the 136.9-kilometer course, going 35 to 40 miles per hour descending down a steep mountain road slick with rain, her front tire locks up, the back of her bike skids out, and she's thrown into the air, as if from a bucking bronco, landing on her head, flipping once again, and crumpling, upside down, against a concrete curb next to a tropical forest. She doesn't move as medics rush from a nearby car.
Van Vleuten was the leader of the race by a sizable margin at that point. She'd been part of a two-woman breakaway from the main pack, along with American Mara Abbott, on the way up Rio's Vista Chinesa pass; then, as they crested the top, she'd broken away from Abbott by taking way more risks, and faster turns, on the way down. Abbott's caution was warranted; the day before, Italy's Vincenzo Nibali (winner of this year's Giro d'Italia and a very big deal in cycling) had been leading the men's road race when he crashed out on that very descent, on a day when it wasn't raining. He's been flown back to Italy to have surgery on his broken collarbone.
The nature of the race meant that Abbott turned that same tricky corner to the sight of van Vleuten's upside-down, motionless form, with many other scary, slick turns still ahead. Hot on her heels was a group of three women that included van Vleuten's Dutch teammate, and eventual gold medalist, Anna van der Breggen, who told The Guardian, "I thought she was dead," and had to ride the rest of the race without any word on her condition, which wouldn't come for hours. Van der Breggen later told reporters that when she saw van Vleuten, "it did not look good. It took a while before I could switch [back to racing]." And it was in that moment that international and athletic rivalries gave way to sisterhood. "Only when [Belgian cyclist] Emma Johansson [one of the chasing group of three] said, 'Let's do it for Annemiek' I was able to turn the switch." As soon as van der Breggen crossed the finish line, she burst into tears; she'd won the gold, and her teammate was on her way to intensive care.
The only word for the rest of the day about van Vleuten was that she was "conscious." Today, she was able to tweet about her condition: "I am now in the hospital with some injuries and fractures, but will be fine. Most of all super disappointed after best race of my career." And, "Still in the hospital. Waiting for some research&hope I can leave today. Knowing that this chance is 1 in 4 years, doesn't make it easy." This wasn't even van Vleuten's only brush with death in the past 12 months. Exactly a year ago, she got hit by a car while training in Italy. A driver didn't see her and turned right into her, resulting in three broken ribs, a broken collarbone, and a collapsed lung from the broken ribs. At the time, she said she was only disappointed because her season had been going so well: "This is something I can handle and will be okay and take some time out." She was back racing four weeks later.
One of her teammates in her professional career, Australian Gracie Elvin, calls her "super-tough" and the kind of positive presence and awesome, supportive girlfriend who never fails to give Elvin encouragement, even in races that van Vleuten herself is also competing in. "Sometimes she'll even come up to me in a race and say, 'Hey man, you're one of the best here, you could win this race,'" Elvin said, according to News Corp Sports reporter Reece Homfray. "And I love that about her."
Talk of the race has since shifted to criticizing the International Cycling Union (UCI) for allowing the race to take place on such a dangerous course. But maybe our energy is better spent wishing van Vleuten well and listening to the lack of complaint or finger-pointing from the women who were on the road. This is their sport and sometimes it's scary and it rains on a steep mountain pass and people get hurt, but what is the alternative? Staying home? Playing safe? Not kicking ass? It seems pretty clear that all van Vleuten wants to do is get back on her bike.