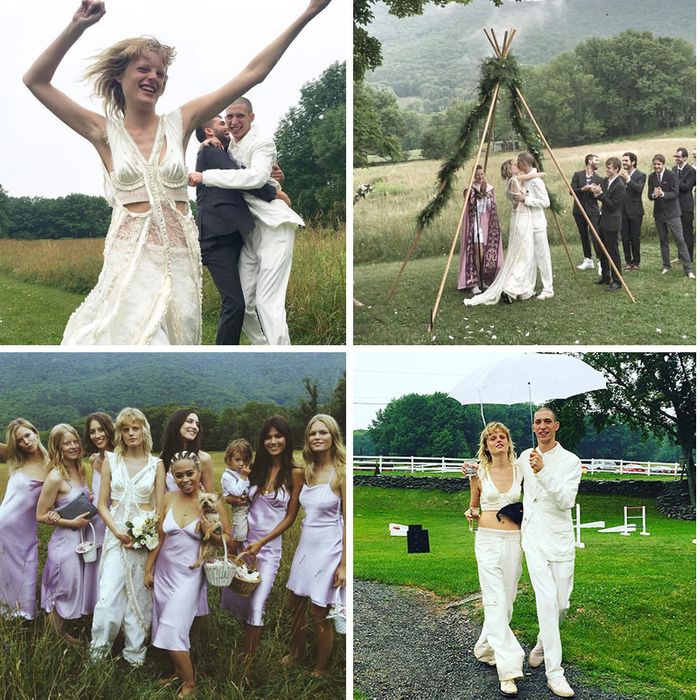 Hanne Gaby Odiele and John Swiatek.
Photo: bekimtrenova/Instagram, ryankorban/Instagram, kasiastruss/Instagram, juicycouture/Instagram, nicholasgrasa/Instagram, how_about_mina/Instagram
When the model Hanne Gaby Odiele married her Alexander Wang campaign-mate John Swiatek, half the photos looked like outtakes from a fashion shoot and half of them looked like outtakes from Burning Man (with a little bit of Zoolander mixed in.) In case you weren't on the invite list, here's what you missed at this upstate extravaganza.
There were Britney-and-Kevin-style Juicy Couture tracksuits for the bridal party. The only question that remains is: Were they Juicy or Juicy x Vetements?
For the ceremony, they changed into lilac slip dresses.
The bride wore, what else, a Wang-designed* wedding cape.
Fellow Professional Beautiful People Anna Ewers, Kasia Struss, and Martha Hunt were there, making it just that much more stressful for everyone to pose in group photos. (Also, this barnyard shot could totally double as the next Alex Wang campaign. Hay has never looked sexier.)
There was even a street-style presence, in the form of off-duty duo Phil Oh and Tommy Ton.
At the reception, guests were given sparklers by a DJ who nervously warned them, "Don't burn the fuckin' place down." Odiele and her pals complied with a dance routine that made her look like a rhythmic gymnast mid-arrest.
Still, the happy couple saved on some aspects of the event — like renting this photo booth from 1995. Fashion loves a high-low mix.
*This post has been corrected to show that while Alexander Wang designed the ensemble, it was not part of his Balenciaga collection.