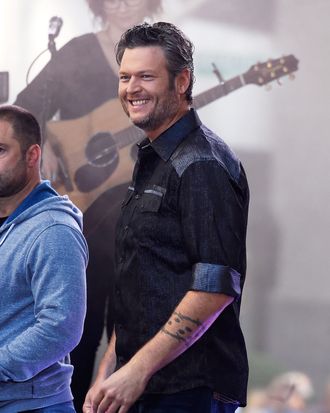 Photo: Dimitrios Kambouris/Getty Images
Blake Shelton, a country singer from Oklahoma who is in a real and loving relationship with his Voice co-star Gwen Stefani, tweeted some bad tweets in the past. Over the weekend, several of his old racist and homophobic jokes surfaced online, and "Page Six" reports that NBC executives are not happy about it. Here's a sampling of them, which Shelton sent between 2009 and 2011:
"wish the [bleep]head in the next room would either shut up or learn some English so I would at least know what he's planning to bomb"

"Soo . . . I just figured out a great excuse for my sick fantasy about Dakota Fanning. I thought she was Amanda Seyfried."

"standing in line at a coffee shop in LA talking with the man in front of me. He orders a skinny caramel latte. I couldn't tell he was gay!!!"
Shelton used to tweet a lot of homophobic jokes, apparently. Here are some alleged screenshots:
According to a "Page Six" source, "[Shelton's] people think this will blow over, but as the scandal unfolded reps for 'The Voice' called at least one site and asked them not to run [coverage] in exchange for continued access to the show."
This is surprising, considering Shelton almost certainly supports Donald Trump.