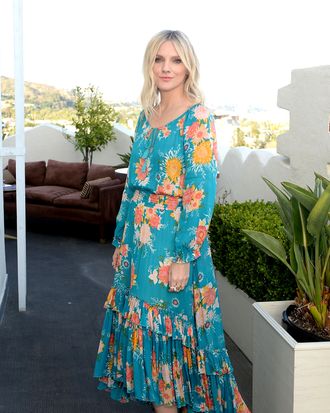 Laura Brown.
Photo: Stefanie Keenan/Getty Images for Harper's Bazaar
Harper's Bazaar executive director Laura Brown is the new editor-in-chief of InStyle, Time Inc. confirmed in a press release. The announcement, reported earlier today by WWD, comes one month after former editor-in-chief Ariel Foxman resigned from InStyle, along with other designer hires and departures this summer.
Brown joins InStyle after 11* years at Harper's Bazaar, where she saw oversaw features and special projects while developing a strong presence beyond the magazine: She interviews celebrities like Hari Nef and Emily Ratajkowski on her M2M show In and Out of Fashion and was a featured judge on Bravo's The Fashion Show. She's also built a solid social-media following (nearly 140,000 on Instagram and Twitter).
Brown will join former Harper's Bazaar accessories director Sam Broekema, who recently left for InStyle, as well as former Maxim publisher Kevin Martinez, who was appointed to the business side of InStyle and StyleWatch last week.
InStyle remained a popular title of Time Inc. under Ariel Foxman's direction, including a website relaunch and magazine overhaul, despite advertising slips over the past few years.
"With her dynamic point of view, collaborative spirit and deep expertise in fashion and celebrity, Laura will be an exciting and transformative force for InStyle," editorial director Jess Cagle said in a company statement. "Her rich experience combined with her profound storytelling skills across print, digital, video and television will take this powerful brand to even greater heights."
Brown celebrated the news on Twitter and posted an Instagram thank-you to Harper's Bazaar editor-in-chief Glenda Bailey:
*This post has been updated to show Brown worked at Harper's Bazaar for 11 years.