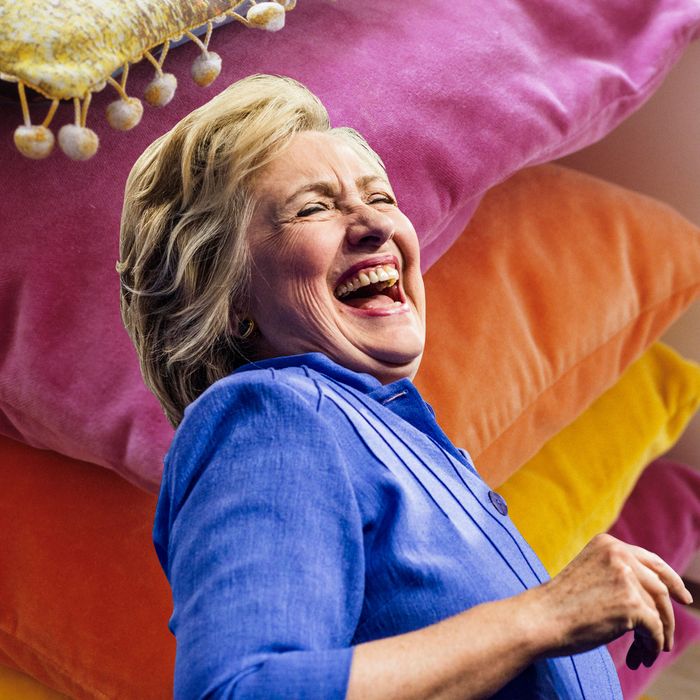 Pillow plotter Hillary Clinton
Photo: Getty Images
After months of clicking "next" on Getty Image galleries of Hillary Clinton, Heat Street, a website known for its bombshell exposé on who feminist writers block on Twitter, has made another jaw-dropping discovery: the Democratic presidential candidate frequently sits on or near comfortable-looking pillows.
According to Heat Street:
Hillary is being propped up by a pillow, and it's hardly the first time this has happened. In fact, the former secretary of state used to include propping cushions on her list of demands during her lucrative time on the paid celebrity speaking circuit.
With the help of the all-powerful Microsoft Paint "arrow" tool, Heat Street then highlights the many times Secretary Clinton has appeared in public sitting with a pillow behind her back, apparently — ahem, excuse me, this is hard to write — so she'll be more comfortable. In one upsetting image, Clinton even goes a bit further: The photo shows her seemingly being propped up by a pillow, perhaps in an effort to appear taller — a thing women never attempt.
All this, of course, raises the question: Can America trust a woman who loves soft-looking pillows to lead our nation? We'll have to wait until November to find out.