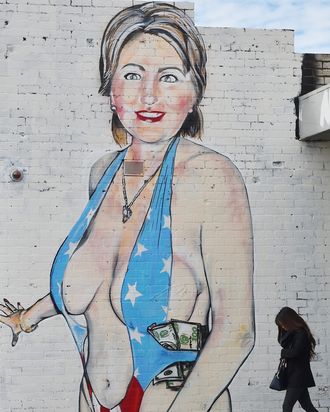 Photo: PAUL CROCK/AFP/Getty Images
Turns out disgustingly sexist depictions of Hillary Clinton aren't just limited to America. After painting a mural of the Democratic presidential nominee in a revealing swimsuit stuffed with $100 bills, grafitti artist LushSux faced some understandable backlash from his Melbourne, Australia, community.
A City Council member released a statement  decrying the mural as offensive "because of the depiction of a near-naked woman, not on the basis of disrespect to Hillary Clinton, and it is not in keeping with our stance on gender equity." They requested the artist remove the mural or face a fine, so LushSux responded by painting a niqab over the mural and writing, "If this Muslim woman offends u, u r a bigot, racist, sexist Islamophobe" next to it. (So edgy!) As of Wednesday, the entire wall was painted black.
LushSux, also responsible for a recent mural of a topless Melania Trump paired with the words "I'm With Her," has been known to refer to himself as "Grafitti's #1 asshole," a statement with which we're inclined to agree.