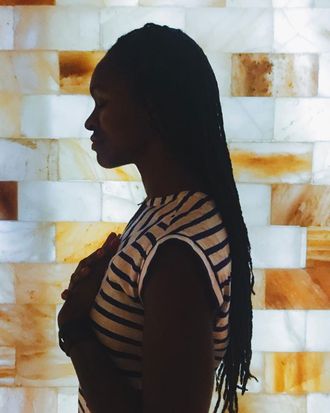 A salt wall that begs to be photographed.
Photo: Courtesy of Instagram/emilysundberg
Willow Smith once told CR Fashion Book, "Imagination can save you from the harsh realities of the world, and that can help some of the time. But it's more productive to create or seek out experiences that help you accept the duality of life." Wise words for life, and Instagram.

Over the summer the Cut hosted an InstaMeet at Breathe Salt Room, which offers a treatment called "dry salt therapy." Aside from providing beautiful light in which to take selfies, the therapy claims to alleviate all sorts of symptoms that come along with this whole human experience thing (like stress and snoring).
The salty floor feels like a rocky shoreline and the space smells like a clean yoga studio. As you walk out, you can taste the remnants of salt on your lips, like when you're driving home from the beach. Add some Health-Ade Kombucha, some bloggers, models, chefs, and photographers, and you have an InstaMeet.
Are Himalayan salt rooms good for other things besides selfies? They hold yoga classes, and even have a contraption that looks like a spaceship for concentrated salt therapy. Will we be having another InstaMeet? Absolutely. Keep following @thecut to stay in the loop.