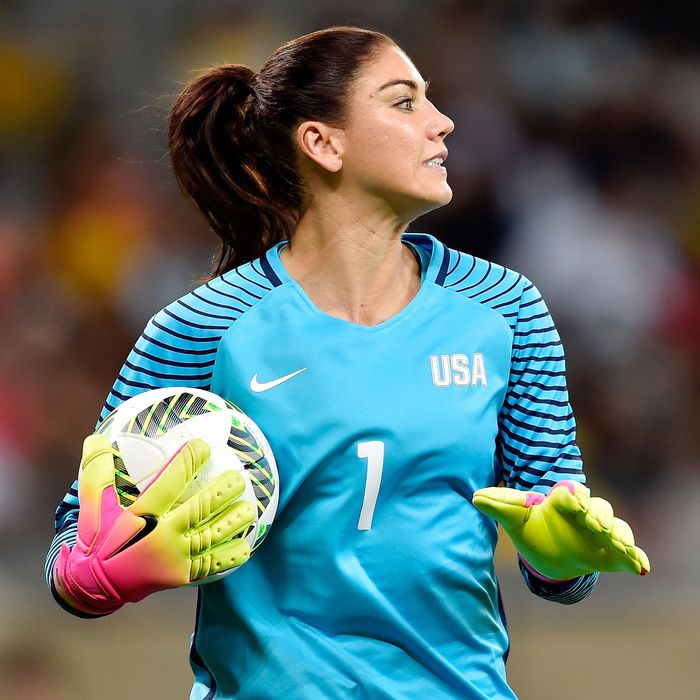 Hope Solo.
Photo: Pedro Vilela/Getty Images
Hope Solo's career as the goalkeeper for the U.S. soccer team might effectively be over. U.S. Soccer issued her a six-month ban on internationals and terminated her contract with the federation, following her comments about the Swedish Olympic soccer team being "cowards."
"The comments by Hope Solo after the match against Sweden during the 2016 Olympics were unacceptable and do not meet the standard of conduct we require from our national team players," U.S. Soccer president Sunil Gulati said in a statement. Solo made the comments after the U.S. team was eliminated by Sweden during the quarterfinals at the Olympics on Aug. 12. "We played a bunch of cowards. The best team did not win today. I strongly believe that," Solo said, according to Sports Illustrated. "I think you saw American heart."
Fans on social media immediately began making comparisons to Ryan Lochte, whose ever-changing story about the incidents in Rio have resulted in plenty of losses in sponsorships and endorsement deals, but no suspension.
While it was her remarks at the Olympics that led to the punishment, her past behavior was also a factor in the federation's decision. In 2015, Solo was suspended for a month after a domestic-violence case involving her striking her sister and nephew. She was also in the passenger seat of a U.S. Soccer van when her husband was arrested on suspicion of driving under the influence.
Following the news of the suspension, Solo said she was saddened about the ban. "I could not be the player I am without being the person I am, even when I haven't made the best choices or said the right things," Solo said. "My entire career, I have only wanted the best for this team, for the players and the women's game and I will continue to pursue these causes with the same unrelenting passion with which I play the game."