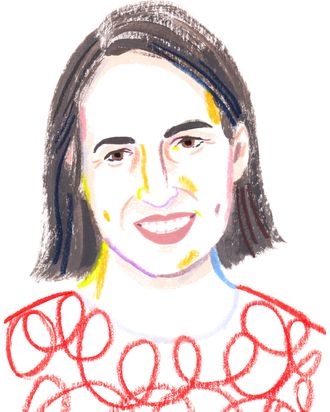 Anne Fulenwider is the editor-in-chief of Marie Claire. She has two children, and a husband who is a branding/media strategist. She lives in Brooklyn, and has no desire to reach inbox zero because she sees her emails as a "record of what's happened." She texts a lot when she needs to handle things expediently, and finds the subway to be a life-changer for her productivity. She goes out two to three nights a week for work and other various life events. Here's how she gets it all done.
On coming to learn that she must embrace mornings:
After resisting this my whole life, I finally, finally, realized that the early, early mornings are my friend and that is my time to myself. It doesn't exist otherwise. I carved it out by waking up earlier. For most mornings, that means six. Sometimes, that's enough time to exercise, which is also something I've come around to very late in life. I do just find it incredibly helpful — not just from a physical point of view but from a mental point of view. I've recently discovered Tracy Anderson's studio, so I've been doing that. I did a half-marathon last fall and that was fun to train for. There's a great gym at the Hearst Tower where they have athletic clothes and everything there and they do the laundry. I like to mix it up.
On a recent Tuesday in the life of a magazine editor:
I get to work around 9:30. It's the summer, so our schedule is kind of off, but if it's a school day, I drop our kids off at their school, which is on our block in Brooklyn. They have to get there at 8:45, and then I get on the subway and I have about a 40-minute commute. I have to say: Thank god for the subway. That's my time when I catch up on all my reading; I download everything on my phone before I get on the train. I usually get a seat because 8:45 is not actually rush hour. Then I have a pull-it-together moment of just catching up on all my news, reading everything, feeling prepared, looking at my schedule for the day ahead. Sometimes, if I have to make a phone call, I'll get in a taxi but there's nothing I hate more than sitting in traffic in a taxi, so for many reasons I've come to love the subway. Though in the summer it can be challenging on the platform.
This week, we did our Monday morning staff meeting on Tuesday. We do it at 10 a.m., the same time every week. We go through the various lineups. I preside over it and will add things like, "I haven't seen that film yet, is that story coming yet, I want to read that." It really sets the tone for the week. This particular Tuesday, I had a couple of internal meetings with senior editors. I met with Kathryn Minshew from the Muse for a lunch meeting in my office. Then we worked on the October cover, which I try to do two or three times a week. We look at the cover all month long, so we can change the cover lines, and do other things. I had a meeting with the digital editor. We talked about breaking the September issue, because we did that on Thursday, which was a really fun cover story for us. It was the first time I've interviewed one of our cover subjects: Sarah Jessica Parker.
I go out probably two to three nights a week for work, for my job, and for life. If I happen to be going home, I'll take the subway home. It provides this nice transition time between who I am at work and who I am at home. I tell all my staff that the minute I walk in the door from work, which is hopefully around 7:30, I put my phone down. I sit with my kids while they eat their dinner and I try to spend the entire time from when I get home to when they go to bed just being present with them. Once they go to bed, I'll check back in on email or catch up on the rest of the news of the day.
On preparing for a nighttime event when your office has glass walls:
On Tuesday night, I was receiving the media award from the Accessories Council. My hair and makeup people are so used to sort of sitting there and doing my hair and makeup while I meet with people, while people come in and show me layouts. It's a great use of time. At Hearst we have all-glass offices. That night, there was some Spanx situation involved so I brought the whole ensemble into the last stall in the ladies room and changed there very glamorously. But usually, because it's a big glass office, I strategically use a big rack of clothing to hide myself. I have an elaborate setup that includes a white canvas screen, a clothing rack with clothes from the fashion closet, and a full-length mirror. I make a sort of three-sided dressing room out of them. It's a thing that people have gotten used to seeing, my hand throwing a piece of clothing over the side. And there's a whole office of fashion editors outside so I can get the opinions once I walk out.
On planning Halloween costumes in August:
My life, my compass is my Outlook Calendar. I am constantly checking it. I take a good look at it Sunday night, and every night before I go to bed, just to make sure I've got the day managed and prepared. I also figure out what I'm going to wear, so if I have a day of internal meetings, I'll go a little more casual, because schlepping clothing back and forth from Brooklyn to Hearst Tower, that's a whole operation in itself. I definitely plan ahead. Take Fashion Week for example. My husband, nanny, and parents are sort of on notice. September Fashion Week is almost always the first week of New York City public school and February Fashion Week is almost always that one week schools have off. That just means we always have a really fun big family vacation planned for April and for the Christmas holiday.
I'm definitely a type-A personality, I'm not always super-organized way in advance, but I have learned by now that we've got to deal with Halloween in August. We think about costumes, what we're going to wear, not necessarily all bought and put together and made, but we talk about it then. Another absolute truth in my life is that I am not the mom who hand-makes the Halloween costumes. I do not have the time to do that. I love to cook but I realize that I am really only capable of cooking one, maybe two meals a week and as much as I would like to be the earth mother who makes the delicious nutritious meals every night for my family, I just have to put that aside. It's not an achievable goal and there's no reason to beat myself up about it. I have other ways of getting our kids nutritious dinners.
On finding time to exercise and keeping herself and her family fed:
I've never had a problem feeding myself. [Laughs] For my kids, I'm usually in charge of breakfast, my husband is usually in charge of packing lunch. Breakfast is a quick nutrition bar or a shake or sometimes some granola and blueberries and yogurt. When I get to the office, I'd say half the time I'm eating out with various partners of the magazine, writers, a new fashion designer. In the fall and spring, through June, I was out to lunch probably three days a week. That's one of the most challenging things to manage, how to eat healthily when you're eating out all the time. I always try to do Japanese food or salad and chicken. I also have an unhealthy addiction to Skinny Pop.
If I'm out at an event, I try not to drink. Even a glass or two of wine and I'm unable to get up at 6 a.m. That's taken a little learning. On the weekends, I love nothing more than a glass of wine or a cocktail with my husband.
On the email management system that changed her life:
I learned this from another woman, an executive at a book publishing company who has a small child and an assistant. She has this system called Admin Fridays where she devotes two or three hours of the morning so that she and her assistant can take care of emails that they've held until that Friday. She makes no meetings. She and her assistant have this code that helps them keep track of what's an email to take care of on that day. It's been genius. Emails that thank someone for something, all of the RSVPs and invitation requests, sending flowers to someone for their birthday, remembering the nonurgent things that come up during the week. It changed my life. I still thank the woman who came up with it.
On letting go of stress:
I don't think feeling stressed is a sustainable state to be in. I absolutely love my job and I really am grateful for it. There's never a dull moment — and I know this sounds so cliché — but I find that it works the best, it's the most enjoyable, when I'm able to be completely present in whatever situation I'm in. I feel motivated and engaged and inspired by work even when it's stressful. One thing I have discovered lately that has really been beneficial is regular acupuncture appointments. I was a skeptic before I tried it and only went at the repeated urging of a colleague, who found a great place near our office, but I have to say it has helped me tremendously to achieve deep relaxation and a real sense of calm.
The one thing she's sad to have let fall to the wayside:
I am very blessed to have a job that I love and a family that I love and can spend time with. Work and love are the two most important things in anyone's life, so I don't want to smugly say that I have it all, but I feel very blessed. There are a couple of things that I have absolutely had to let go of. I don't see old friends as much. I would like to make more time for that. The friends bit is the part that gets left behind. That's too bad. Between work and family, there is little time for girlfriend time. That's why I'm particularly appreciative of my colleagues and the people I get to spend time with at work, and I'm very particular about who I work with. It's not the same as a night out with an old girlfriend but I really appreciate the women that I work with — and the few men.