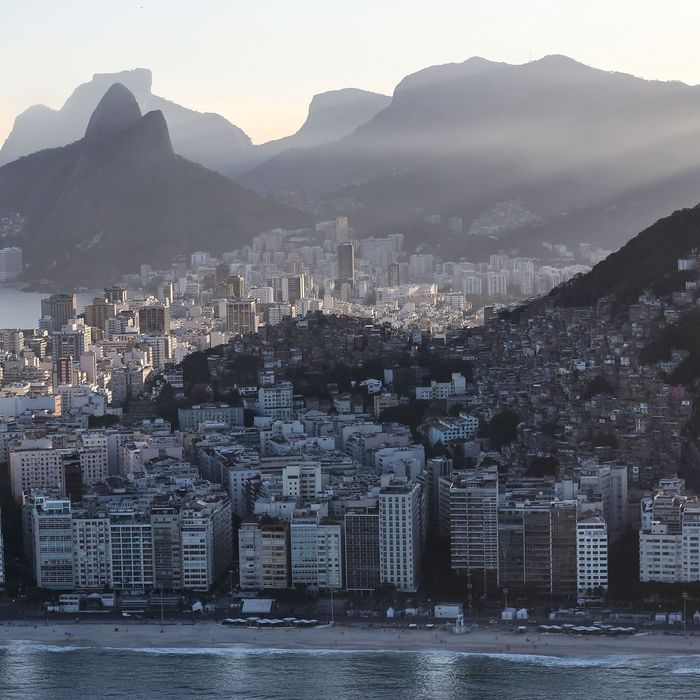 Copacabana Beach, one of the Olympic venue locations.
Photo: Mario Tama/Getty Images
As if Brazil weren't already having a disastrous lead-up to the Olympics, there's the Zika epidemic to consider. The country has seen 166,000suspected and confirmed cases of the mosquito-borne virus — for which only 20 percent of infected people show symptoms — which has resulted in the births of nearly 1,800 infants with microcephaly. Unlike any other virus carried by mosquitoes, this one can also be passed on during unprotected sex.
In May, 150 doctors and scientists signed a letter urging the World Health Organization to move or postpone the Games. Even before the letter was posted, the International Olympic Committee said the Games would proceed and the WHO doubled down in response to the call. 

Some athletes (mostly male golfers) have backed out, while others froze their sperm before their flights to Rio. Some begrudging participants proclaimed that they won't leave their hotel rooms and are tweeting photos of their bug-repellent stash. (Others have signed endorsement deals with bug-spray makers.) Chinese gymnasts are even sleeping under mosquito nets in the air-conditioned Olympic Village. International health officials have told pregnant women not to travel to Brazil and one high-profile news anchor is staying home as a result.
Unsurprisingly, Olympic ticket sales aren't as strong as they were in London four years ago. As of July 21, Rio organizers had sold 4.5 million out of 6.1 million tickets, or about 73 percent. Tickets for London were 80 percent sold at the end of June 2012.
Is all this concern warranted? And are there other health threats people should be more worried about? Martin Cetron, M.D., director of global migration and quarantine for the U.S. Centers for Disease Control and Prevention, has some strong feelings on the matter.
By the time people had started calling to postpone the Games, Dr. Cetron was already working on an assessment to calculate how much the Olympics would increase global Zika risk. For the paper, the CDC team looked at the number of airport arrivals and departures in 2015 between countries where Zika is now spreading. There were 240 million trips, which served as baseline.
Then they considered the projected number of travelers to the Games (350,000 to 500,000) over the six-week time frame of the Olympics. (Note that the estimate for the 2014 World Cup was higher at 600,000 and the total ended up being 1 million travelers.) Even if the max of 500,000 people traveled to the Olympics, those trips account for less than one quarter of a percent of all travel between Zika-affected countries. The Olympics are effectively a drop in the bucket.
"Globalization is the main driver for the spread of Zika, as it is for many emerging infectious diseases, and the relative contribution of Olympics to that spread is really, really quite small," Dr. Cetron says. "Even if we were to say, 'let's stop the Games,' cancel them, postpone them, whatever you want to do; it wouldn't deal with 99.75 percent of the risk."
So, no, stopping the Olympics is not a logical move. "I think the hearts of those people are in the right place, but the science wouldn't justify that type of a response from our opinion," he says.
Dr. Cetron's investigation did find that, of the 206 nations sending athletes to the Games, there are four countries that face a unique added risk of Zika transmission as a result: Chad, Djibouti, Eritrea, and Yemen. And that's assuming perfect circumstances for infection, like that Zika would be raging in Brazil during the Games (it's not) and that members of these small delegations would do nothing to avoid mosquito bites.
Dr. Cetron says that the peak of the epidemic was probably in February or March. It's now winter there and while temperatures are still in the 70s and 80s, the relatively cooler, drier weather has meant that, historically, transmission of mosquito-borne diseases like dengue drops by up to 90 percent. Brazilian mosquitoes are simply less active during this time of year. But, yes, there's still a chance that people traveling to Rio will get Zika. How many cases are we talking about? A few groups of researchers have tried to answer this very question.
A study published in The Lancet in June estimated that there would be no more than 15 Zika cases among visitors attending the Games. Another study put the number at 16 cases. The most recent paper, out last month in theAnnals of Internal Medicine, predicted a worst-case scenario of 6 to 80 infections, with only 3 to 37 people returning home with an active infection. More than half of travelers will be coming back to a country where the risk of local mosquito transmission is low because of the types of bugs that live there, says Joseph Lewnard of the Yale School of Public Health and one of the three co-authors of the study.
He said the team accounted for the likely underestimation of Zika cases in Brazil since 80 percent of people are asymptomatic. And even with that adjustment, the risk is still really small, Dr. Cetron says. "If you're talking about 6 to 80 cases out of 350,000 to 500,000 people, that rate isextremely low, extremely low." The authors of a recent Lancet editorial agreed, writing: "the best available evidence indicates that, with appropriate precautions, Zika virus poses no serious public health danger to those taking part in or attending the Olympics."
And for all its infrastructure problems, Brazil has a long-standing mosquito-control program in response to other viruses like dengue and yellow fever, Lewnard says. Plus, the International Olympic Committee said that there would be daily clearing of standing water near the venues. Lewnard pointed out that most travelers will be staying in hotels that have air-conditioning and window screens, unlike the housing of the majority of the Brazilian population. The organizers also handed out a more-absurd-than-usual amount of condoms in the Olympic Village; a good move because of that whole sexual-transmission thing.
Lewnard says he understands the fear about Zika since, unlike dengue fever, it causes birth defects and can be sexually transmitted, but data about dengue can provide some measure of reassurance. Before the 2014 World Cup, experts estimated there would be 59 cases of dengue among visitors and, in fact, there were just three known travel-associated cases of the virus.
"We're talking about a very small risk. But it's not zero. We recognize that this is not dengue, it's Zika; there are things that will be different," Dr. Cetron says. "And, out of an abundance of caution, we still say that the consequences of a Zika infection in a pregnant woman are so devastating that we still advise pregnant women not to go [to Rio]."
Any non-pregnant person who attends should prevent mosquito bites during the Games with repellent and clothing and keep up the repellent for three weeks after they get home to reduce the risk that a local skeeter will bite them and start the chain of transmission, he says.
But overall, should Zika be spectators' biggest worry? Dr. Cetron says the risk of contracting the flu, a gastrointestinal illness, or even measles or hepatitis if you're not up to date on vaccines is higher than the risk of getting Zika "by a long shot." The CDC warns Rio-bound travelers of all of these health risks on the same page as Zika. But headlines about traveler's diarrhea aren't as compelling as ones about a scary-sounding new virus, are they?