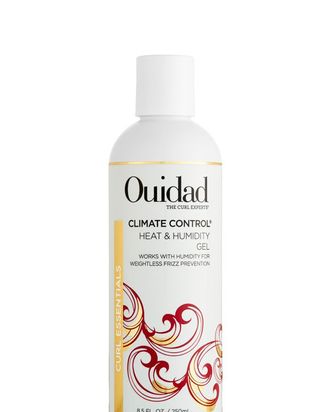 There are lots of things that are unbearable at the moment: world affairs, Taylor and Tom, and New York's humidity index, to name a few. While only time and rebound-relationship physics can fix the first two, Ouidad's Climate Control Heat and Humidity Gel can address the third.
How? The gel – which is fantastically light, by the way – "works with humidity, not against it," per the back of the bottle. It uses whey protein and elastin polymers to help your hair expand when moisture makes contact, keeping a frizz attack at bay. Not that it's a show-off: You'll see no white crust, crunchiness, or any other evidence that it was ever there. It works well at keeping my hair tame when I wear it down, but in the dead heat of the summer months, it's magical for keeping my bun, topknot, or braid in check. I find that it plays well with other hair products and doesn't prevent your leave-in conditioner from doing its job, but I still recommend applying this as one of your last steps, since the almond glycerides act as a sealant.
All in all, it's one of the best mic drops on summer humidity that you'll come across.
Ouidad Climate Control Heat & Humidity Gel, $26 at Dermstore.