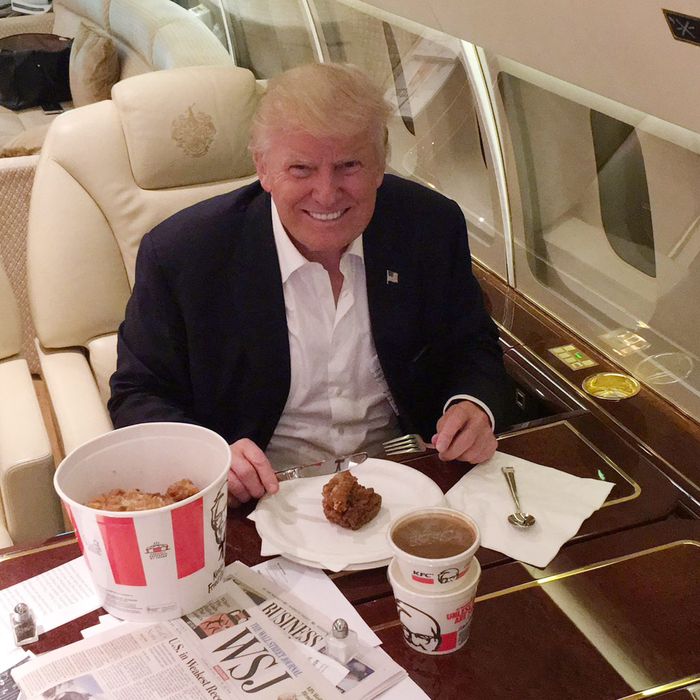 Step one: Chicken bucket.
Photo: Donald Trump/Twitter
Donald Trump has many admirable qualities, among them his "very good brain" and his very selective memory. But if you've seen him on the campaign trail lately, you might've noticed yet another of his attributes: his perfect politician's bod.
Politicians have all sorts of tricks for maintaining their figures during the presidential race, and although Trump has talked about his exercise regimen, he hasn't been quite as forthcoming about his campaign diet.
Luckily, the New York Times published a breakdown of Trump's usual fare. It includes:
McDonald's.
"A 'fish delight,' sometimes, right?" Mr. Trump told Anderson Cooper at a CNN town-hall-style meeting in February, extolling the virtues of McDonald's. "The Big Macs are great. The Quarter Pounder. It's great stuff."

"There's never any real planning for food," said one, between events on Friday. "It's always just whatever he is craving, which is more often than not McDonald's."
Taco bowls from Trump Tower Grill. (Note: These are only available on Cinco de Mayo.)
And, when he has a night back at Trump Tower, Melania's home cooking.
He once praised the "imagination" of his wife, Melania, in the kitchen — before citing, as examples of her culinary derring-do, spaghetti and meat sauce, salads and meatloaf. (He still keeps a copy of his mother's meatloaf recipe.) 
But, as the Times notes, Trump is conscientious about his choices:
Howie Carr, a Boston Herald columnist, recalled traveling on Mr. Trump's plane and watching him rip the buns off his McDonald's patties before plying the burgers with ketchup. ("Do you know how many calories you save that way?" Mr. Trump asked Mr. Carr.) And Mr. Trump also told US Weekly that he tries to save calories on pizza. ("I scrape the toppings off my pizza — I never eat the dough," he said.)
The Times also cites Wendy's, Burger King, and something called Jackson Hole Burgers as some of Trump's favorite spots. Maybe his good friend Tom Brady should ask him for tips.