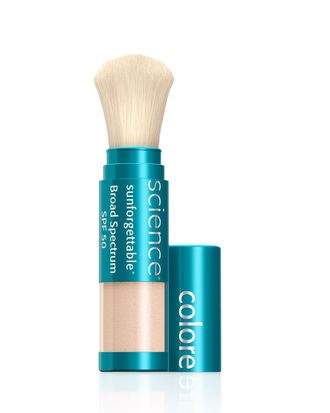 Colorscience Sunforgettable
Photo: Colorescience
Quick, when's the last time you reapplied your sunscreen every two hours, as recommended by the FDA? Has it been weeks, months, or perhaps maybe never? This isn't meant to scare you, but recent skin-cancer studies read bleak. You really ought to start giving your sunscreen application a little more heft, and there's no better way to build coverage than with an SPF-laced tinted mineral powder.
The best powder sunscreens run under the Colorscience brand — a brand that has constructed a library of different ways to block the sun. "Sunforgettable" is Colorscience's hallmark product, a loose matte powder available in four shades: fair, medium, tan, and deep. The four shades are limited, true, but they're also a far cry from the overwhelming industry standard that "one color fits all." (For reference, I use the "Tan" shade.)
Inside each Sunforgettable tube, you'll find a finely milled powder that is dispensed through the applicator's built-in brush. To use, you simply invert the tube, shake, and then sweep the product all over your face. It's easy work and takes a matter of seconds. So how does it sit on skin? There's good news on that end as well. The powder's tint deposits a medium layer of coverage; your skin will look even, and oily splotches will disappear under the powder's adsorbent veil. Constant reapplication won't make you look cakey, either. It's all so very good.
It would be irresponsible not to cite the fairly checkered past surrounding powder sunscreens. Three years ago the FDA said they needed to further evaluate the powders' effectiveness, and around the same time green-truthers claimed the powders could induce cancer. It was all so scary and confusing. Now, however, most dermatologists agree that powder sunscreens are perfectly safe. They shouldn't be your first line of defense, given that they don't provide as much coverage as the goo — but for an effective way to stay continuously protected throughout the day? There's really nothing better.
Colorescience Sunforgettable Loose Mineral Sunscreen Brush Broad Spectrum SPF 30, $57 at Sephora.