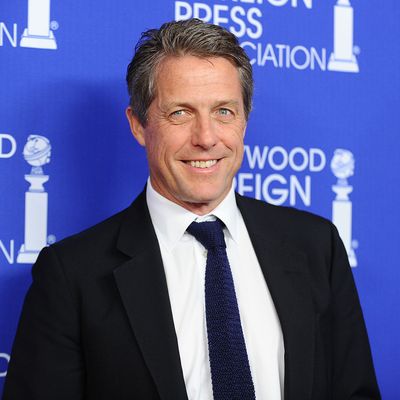 Hugh Grant.
Photo: Jason LaVeris/FilmMagic/Getty
On one pole of the celebrity relatability matrix, we have Adele, whose credit card was recently declined at a San Jose H&M. And then there's Hugh Grant, who revealed he was once so bored on a vacation in the Maldives that he was "massaged into madness." Hate when that happens!
As he told James Corden on The Late Late Show:
I went on a holiday in the Maldives and I was extremely bored, so I thought, Oh, I'll have another massage. Was having about 30 massages a day. And at the end of the holiday, I felt a little strange, but I was all right. I got on the airplane to go home, opened the newspaper to start reading the football results, and burst into tears. I couldn't stop crying for three weeks. It was completely absurd. I'd go to a café, and they'd say, "Do you want a skim milk or a regular?," and I'd burst into tears.
He then tried to cure himself by seeing a £500 hypnotist, which left him "tense as a toad" and "totally miserable and self-conscious."