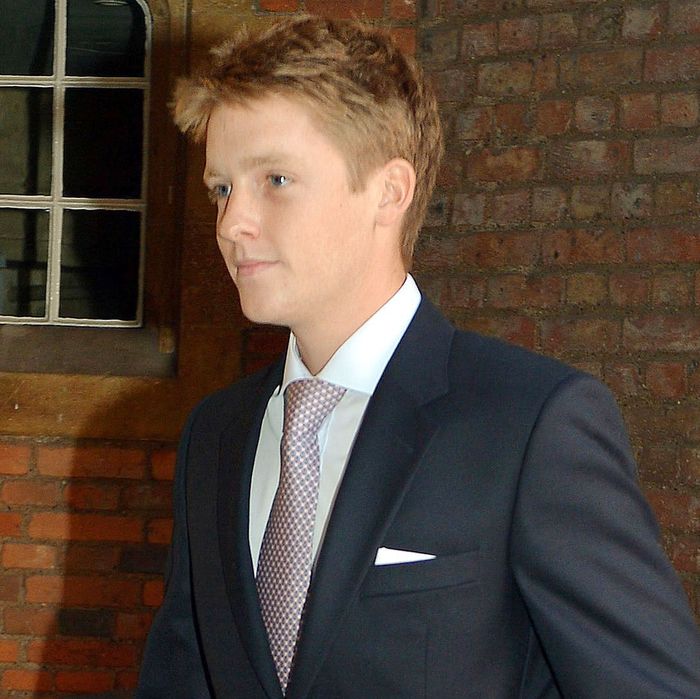 Meet Hugh Grosvenor, godfather to Prince George.
Photo: John Stillwell/PA
On Tuesday, Gerald Grosvenor, the duke of Westminster who was once an executor of Princess Diana's will, died of a heart attack at age 64. His untimely death means his son Hugh Grosvenor has officially become Britain's youngest billionaire, inheriting the title, real estate on five continents, and a fortune worth $10.8 billion, all at the ripe old age of 25.
Becoming the new duke of Westminster has made Hugh Grosvenor internationally famous once again, as he's a close friend of the royal family: When he was 22, Prince William and Kate Middleton named him godfather to Prince George. The year before, Prince Harry partied with Rizzle Kicks at the now-duke's lavish 21st-birthday party. Here are six things to know about the world's latest most eligible bachelor.
Is he single? Unclear. Reportedly, maybe. Hopefully, yes.
His vast inheritance comes from a 17th-century swamp. In 1677, his ancestors astutely purchased 500 acres of swamp, pastures, and orchards that would become Eaton Square, Mayfair and Belgravia (two of London's most ritzy areas), and the center of Georgian London. The family since expanded their real-estate empire to include properties on five continents.
He's an econerd. Maybe a coffee addict? Right now he's reportedly an account manager at a London-based green tech company, bio-bean, which recycles used coffee grounds into biofuel. At Newcastle University, he studied plants, wildlife conservation, business, and geology and probably worked on a farm all at the same time. This is an actual major: countryside management.
He likes hip-hop, has an amazing wine cellar: Rizzle Kicks performed at his 21st birthday party (rumored to have cost $8 million), where Prince Harry and 799 other guests followed a "black tie and neon" dress code, ate steak and chips, and listened to comedian Michael McIntyre. A strict no-gift policy did allow wine bottles, meaning: He (probably) has hundreds of bottles of wine!
A sexist 11th-century law made him a billionaire. (Not his fault.) Hugh Grosvenor has two older sisters and one younger sister but he's the duke's only son. Britain's ancient primogeniture law favoring oldest sons, created in 1066, is still in effect. The law lets a family's oldest son inherit an estate even if he has older sisters. Lawmakers are still discussing changes to this rule, so his three sisters will reportedly inherit large trust funds.
Just his family's casual country home: Eaton Hall, set on 11,000 acres of formal gardens and every flavor of land (farmlands, woodlands, parklands). Perks: butlers, W-monogrammed sheets, Rembrandt paintings. A summer getaway!
Here's to the new duke.