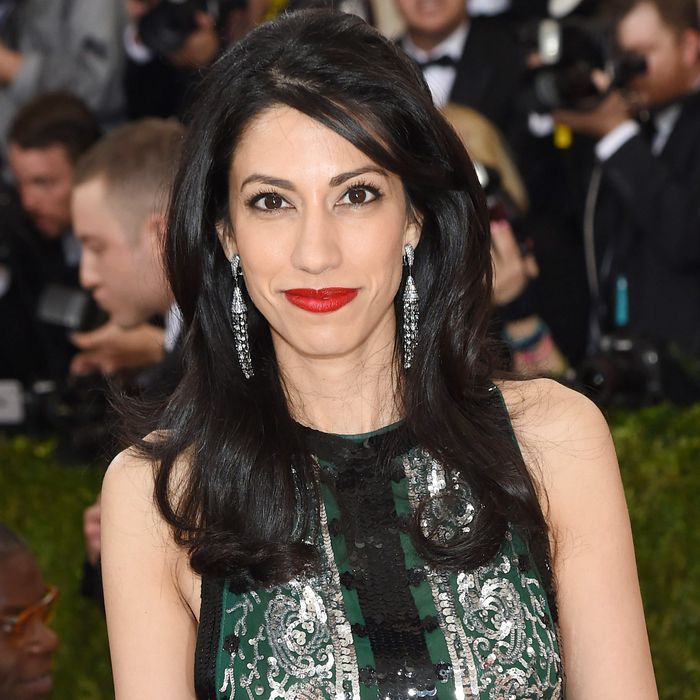 Huma Abedin at the Met Gala.
Photo: Jamie McCarthy/Getty Images
Huma Abedin is the flawless backbone of Hillary Clinton's presidential campaign. As Clinton's longest-serving staffer, she's cool, collected, and fiercely loyal, but she also moves primarily behind the scenes, leaving center stage to the woman who's employed her for so long. Now that Clinton is running for president, Abedin is almost always working, and she talked to Vogue about how she manages to balance her job, which one of her acquaintances called "basically impossible," with raising her 4-year-old son, Jordan.
"It wasn't so clear in my mind, after my son was born, that I would work with this kind of intensity," she told the magazine. She went on:
"Many working moms feel this way — there is a lot of guilt … I don't think I could do it if I didn't have the support system I have, if Anthony wasn't willing to be, essentially, a full-time dad. I have in-laws who are really supportive. And I'm lucky enough to have a nanny, which I realize is completely a luxury — a lot of people aren't able to do that. That allows me to travel and do my job.

"But I do feel like I'm constantly juggling," she goes on, staring into the half a cup of coffee on her desk. "There are days that go by, and I think, I can't recall the last time I cooked my son a meal. I feel really guilty about that. I'm his mother, and I should be making sure he's eating well!" She looks a little mournful. "When I do have a day with him, I like to go on a walk — even if I have to be on a conference call," she says. "I think, to him, it's normal." She adds, more quietly, "I'm hoping that in ten years he won't remember that Mom is at work so much."
Per the magazine, Abedin works so much because she makes all the calls — "her judgment tends to be essential" to the campaign's day-to-day movements. At least her boss supports affordable child care.