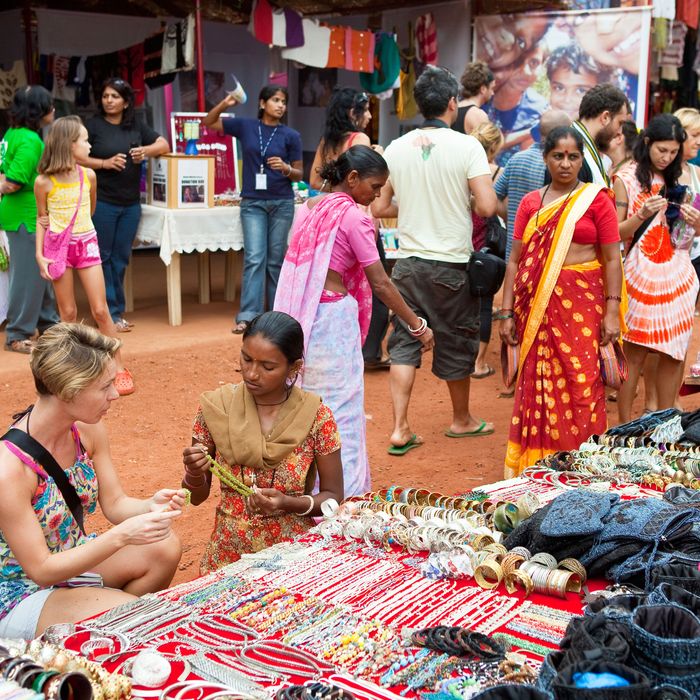 Tourists in India.
Photo: Bertrand Gardel/Getty Images
In a press conference on Sunday, India's tourism minister, Mahesh Sharma, said foreign women should avoid wearing skirts and dresses when visiting the country. According to the Guardian, Sharma described a "welcome kit" issued to all tourists. "In that kit they are given dos and don'ts," he said. "These are very small things, like they should not venture out alone at night in small places, or wear skirts, and they should click the photo of the vehicle number plate whenever they travel and send it to friends."
He went on, "For their own safety, women foreign tourists should not wear short dresses and skirts … Indian culture is different from the western."
Following accusations that Indian officials were implementing a dress code for women, Sharma clarified his remarks, saying, "We have not given any specific instructions regarding what they should wear or not wear … We are not trying to change anyone's preference."
His remarks follow a number of high-profile sexual-assault cases in India, including the gang rape of a medical student in Delhi in 2013, a similar incident involving an American woman two years later, and — most recently — the alleged gang rape of an Israeli women by six men in July. All three incidents occurred in popular tourist towns, although the first involved a woman who lived and studied in Delhi. According to national statistics, 92 women are raped in India every day, and more than 80 percent are sexually harassed.
Some legal reforms have been implemented in the wake of such harrowing statistics, but overall, Indian officials have been slow to react. Per the Guardian, this isn't the first time Sharma has displayed questionable views when it comes to women; when discussing nights out for women last year, he said, "It may be alright elsewhere, but it is not part of Indian culture."