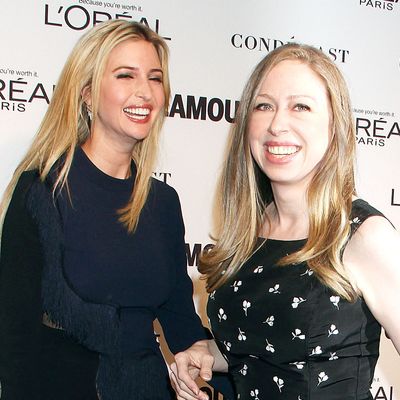 Look! They're fine!
Photo: Laura Cavanaugh/Getty Images
Before both of their parents decided to run for president, Chelsea Clinton and Ivanka Trump were casual acquaintances, if not friends. But now that Ivanka's dad and Chelsea's mom are hurling insults at each other on a daily basis, there's been some doubt as to whether the two are still on good terms.
Previous reports say they put their relationship "on hold" during the campaign, but after Ivanka gave a speech promoting equal rights for women at the Republican National Convention, Chelsea made it known that she's a tad skeptical Ivanka's dad actually cares about (or has policies in place for) women's equality.
And yet, in a recent interview with Harper's Bazaar, Ivanka once again stuck to her media training and reassured us that everything between her and Chelsea is just fine, thank you. When asked whether "suspending" her friendship with Chelsea was "rough," she responded:
"Why has it been rough?! I still consider her a very close friend, and she considers me as well. We have a great relationship." Really? "I'm not running for public office, and neither is she, so of course we're still friends." Have you seen the new baby? "Not yet." But she sent "a cute gift. More for the mother than the baby."
See? She and Chelsea are fine — just fine.