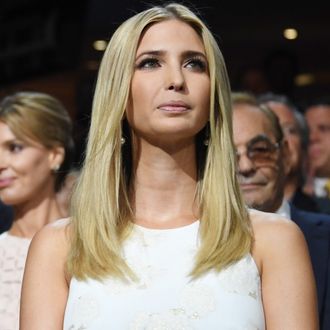 Ivanka Trump.
Photo: JIM WATSON/AFP/Getty Images
In June, the Florentine shoe line Aquazzura sued Ivanka Trump over a pair of shoes from her fashion line that they felt too closely resembled their "Wild Thing" fringed heels. In the lawsuit, Aquazzura noted that Trump had previously produced what they considered to be copycat versions of their Forever Marilyn and Belgravia heel styles as well.
At the time, the CFO of Marc Fisher, which manufactures Trump's shoe line, stated, "This is a baseless lawsuit aimed at generating publicity. The shoe in question is representative of a trending fashion style, is not subject to intellectual property law protection and there are similar styles made by several major brands. The lawsuit is without merit and we will vigorously defend ourselves against the claim."
That wasn't just bluster, it seems. According to the Daily Mail, Trump has now filed court documents denying the claim that she engaged in "unfair competition or deceptive trade" and is asking that the suit be dismissed. We have a feeling it won't be the last word in the ongoing Trump-versus-assorted-fashion-designers drama.