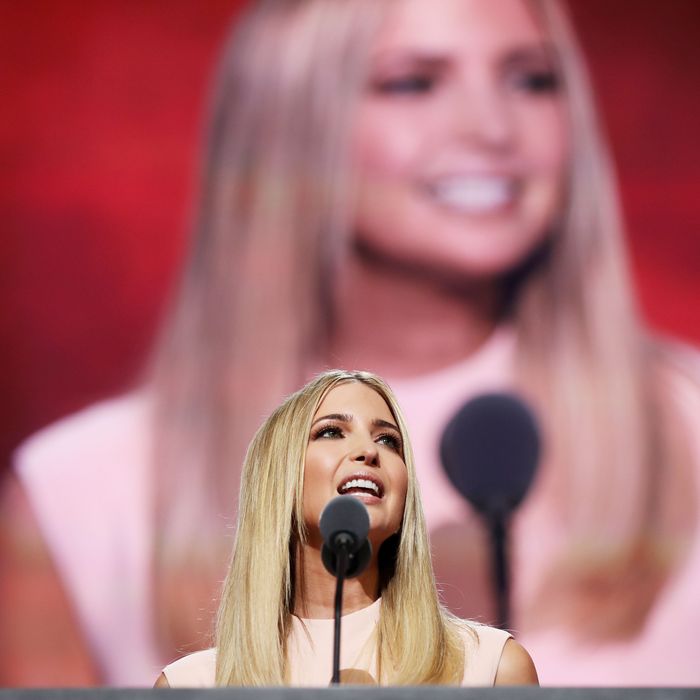 Most of her interns are female.
Photo: John Moore/Getty Images
Ivanka Trump is an outspoken advocate for equal pay — so much so that she's attempted to make it an issue in her father's campaign, despite the fact that he's shown relatively little interest in working women. But as with issues such as paid maternity leave and keeping manufacturing jobs in the United States, it would seem Ivanka says one thing while her company does another.
Judging by a recent post on her company's website, the Ivanka Trump brand doesn't pay any of the interns quoted, all of whom are women (and most of whom are named Mackenzie). The post is part of the brand's intern series, and details how interns can survive a summer without a paycheck. Quincy Bulin, the company's copy intern, writes that this is her "third unpaid summer in New York City," and she and the other interns share advice for scraping by, like saving up during the school year, setting a budget, and taking a part-time job.
On the whole — and speaking as a former unpaid intern — it's not bad advice. But given Ivanka's bold declaration during the Republican National Convention that policies promoting women's equality "should not be novelties, they should be the norm," it seems strange that she doesn't ensure her (female) intern staff has a leg up.
Update: the Chief Brand Officer at Ivanka Trump send the Cut the following statement:
We are passionate about the personal, educational and career growth of our interns.  We strive to create a fulfilling learning opportunity tailored to the unique interests and career goals of each intern. It is our goal that at the end of the program, our interns leave with experiences that will help guide them into choosing a fulfilling career path.