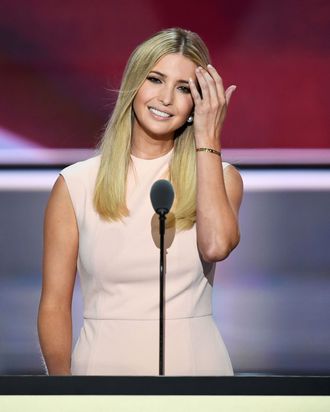 Ivanka Trump, cuff-orderer.
Photo: JIM WATSON/AFP/Getty Images
Jill Martinelli and Sabine Le Guyader have been designing the jewelry line Lady Grey since 2009, and in that time, Beyoncé and Rihanna have worn their designs. But their most famous customer interaction may be the one they just had with Ivanka Trump. Yesterday afternoon, Martinelli and Le Guyader posted a handwritten note to Trump, who just purchased one of their cuffs. The letter reads, "Dear Ivanka, Thank you for your web order! We're happy to let you know that the proceeds of your sale have been generously donated to the American Immigration Council, the Everytown for Gun Safety Organization, and the Hillary Clinton campaign. We hope you enjoy your new Lady Grey #helixcuff. Best, Sabine and Jill."
The two made their Instagram account private as of this morning, but have since made it public again. "The note was included in her package and shipped last week directly from our studio in Brooklyn," Martinelli told the Cut in an e-mail. "While we were flattered to receive an order from Ivanka Trump, our social and political views couldn't be further from those of the Trump campaign. When we received her order, we instantly felt compelled to take the money and donate it to a few organizations that were more aligned with our ideals." Presumably, Christie Brinkley is cheering somewhere.