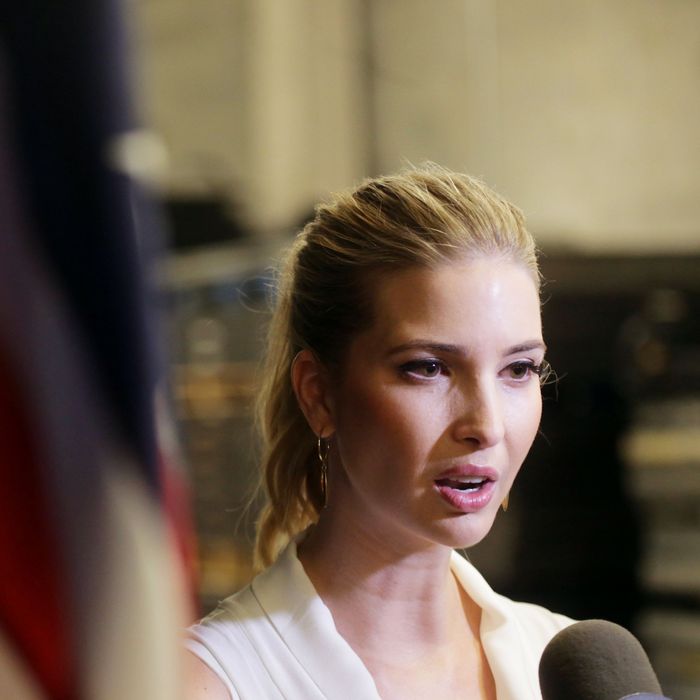 Ivanka isn't our savoir.
Photo: Ryan Garza/Detroit Free Press/TNS via Getty Images
Ivanka Trump has been an integral part of her father's campaign. Not only has she attempted to appeal to women on his behalf, even going so far as to promise working women that her father will take their interests to heart (a stance he has yet to include in his platform), but she's repeatedly attempted to soften his image in the press, even as the things he says become less and less defensible.
Because she's the levelheaded daughter of a volatile billionaire, much of the voting public would like to imagine that Ivanka has more power behind the scenes than she displays in front of the cameras — both the left and the right have called on Ivanka to bring her dad down a notch. The Mexican and Latin American edition of Marie Claire dedicated its entire July issue to an appeal to Ivanka, and more recently, documentarian Michael Moore published an open letter.
"He is in need of an intervention," the letter begins, referring to Donald. "And I believe only you can conduct it. He trusts you. He believes in you. Although I don't know you personally, you seem to be a very smart and together woman. I think he will listen to you." Moore goes on:
Ivanka, I have faith in you that you can do this … This has gone beyond "crazy." The entire nation — in fact, the entire world — needs you to step forward and do the courageous thing history will praise you for: the loving act of a brilliant daughter who also loved her beleaguered country enough to say her father wasn't well and needed help.
Moore's appeal rests on the assumption that Ivanka holds sway over her father, and that she has input where his campaign is concerned. And plenty of ordinary people share his optimism:
But there's not a shred of evidence that Ivanka can save us from her father, or that she wants to. When Lisa DePaulo interviewed Ivanka for Harper's Bazaar earlier this week, she asked directly whether she's secretly in charge of the Trump campaign:
When I tell her that my friends supporting Trump hope to hell that she is the one calling the shots, she raises a perfect eyebrow.

"Really? I'm definitely not," she insists. "His campaign is his campaign. We have worked together for over a decade, and I love my father, I respect my father. I also understand him and how he thinks."

So what is her role? "My role is daughter. I'm his daughter."
Trump goes on to say that, should her father win the White House, she'll have a role in his administration: "Obviously, I'm a huge advocate for women and women's issues." But as much as we'd like to imagine Ivanka's chagrin — "It is hard for me to think that you, a privileged and educated woman, tolerate these dangerous ideas," the editor-in-chief of Marie Claire Latin America wrote — there's a good chance it just doesn't exist.
What's more, it's not her job to cajole Donald Trump, a fully grown man running to lead a nation, into behaving. As she's reiterated throughout the campaign, Ivanka isn't here to talk her father down — she's kind of busy.