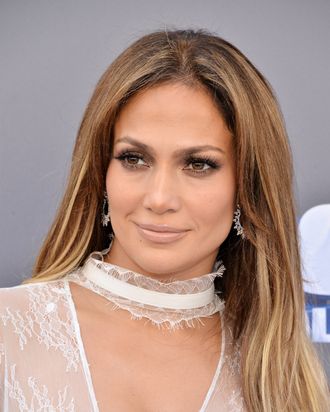 A good dog mom
Photo: Araya Diaz/Getty Images
Last Friday around 10 a.m., you were probably chugging your second coffee of the day while staring blankly at your glowing computer screen, just trying to make it through the last few hours of the work week. Around the same time, J.Lo's dogs were preparing to have a much, much better day than you.
To start, a black Lincoln Town Car dropped off her two boxers (Bear and Rocky) and their friends (two Labradors named Lady and Buddy and a mastiff named Champ) at the Dog Store in Wainscott, New York. The group of dogs reportedly spent their day getting massages, pedicures, washes and blow-dries, and hot-oil treatments, for a cost of approximately $350 per dog. Per "Page Six," "Bear and Rocky left at about noon with gleaming coats, and were whisked away in the Town Car, but the Labs and monstrous mastiff didn't emerge until 3 p.m., whereupon the limo was back to collect them."
Now close your eyes and picture five big dogs living it up at a spa. That's nice, isn't it?
Unfortunately, fellow Hamptons residents were not quite as amused. "Every Friday, we drop off our dogs at the spa while we go to Barry's Bootcamp next door, but this time the doors to the spa were shut, and a handler was overheard saying Lopez's dogs were inside. They were there nearly all day," one complained.
Bear and Rocky reportedly replied "woof, woof, woof, woof, woof," which roughly translates to "excuse me, haven't you ever heard of self-care?"