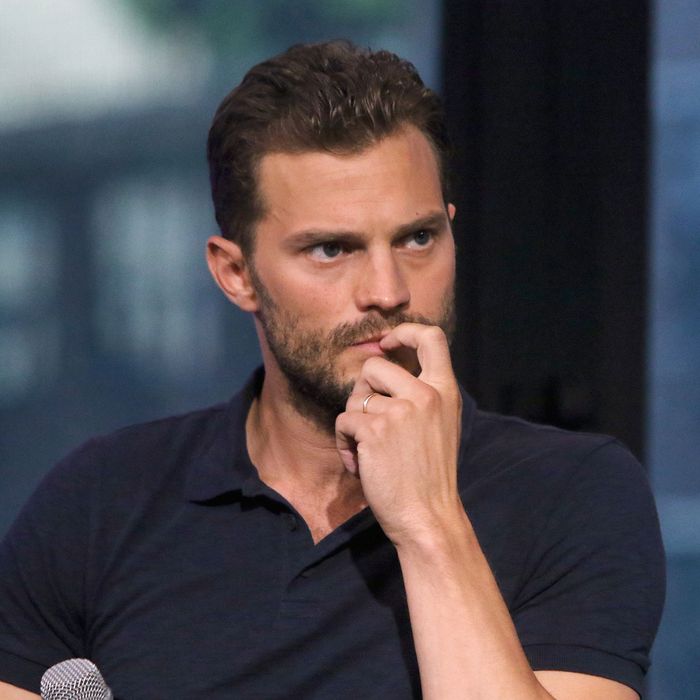 Hmmmm
Photo: Jim Spellman/Getty Images
In mainstream cinema and on TV, there is far and away more female nudity featured than male. This is known, this is fact, and it is an inequitable situation that has even inspired celebrities like Game of Thrones' Emilia Clarke to speak up about the necessity of more frequent dong shots (from her lips to God's ears).
On a recent red carpet, Vanity Fair asked actor Jamie Dornan about Clarke's comments regarding the nudity double standard — pertinent, considering his noted lack of full-frontal nudity in Fifty Shades of Grey.
"I do think it's unfair. I understand why women have an issue with that," he responded. "I know it's something that a lot of people have opinion on … Orlando Bloom did it today without even needing to. But I understand why. There's more of an active taste for women to take their clothes off and be seen as a sex object. That can be gratuitous and I don't agree with that." (He would not confirm whether or not he'd have a full-frontal scene in the upcoming Fifty Shades Darker).
Like Clarke's Game of Thrones co-star Kit Harington, Dornan also wants people to know that male actors can be objectified too, saying, "So I wouldn't say I'm relatively not objectified in the workplace. I am. It's not just the women, but men, too."
Jamie … thank you.