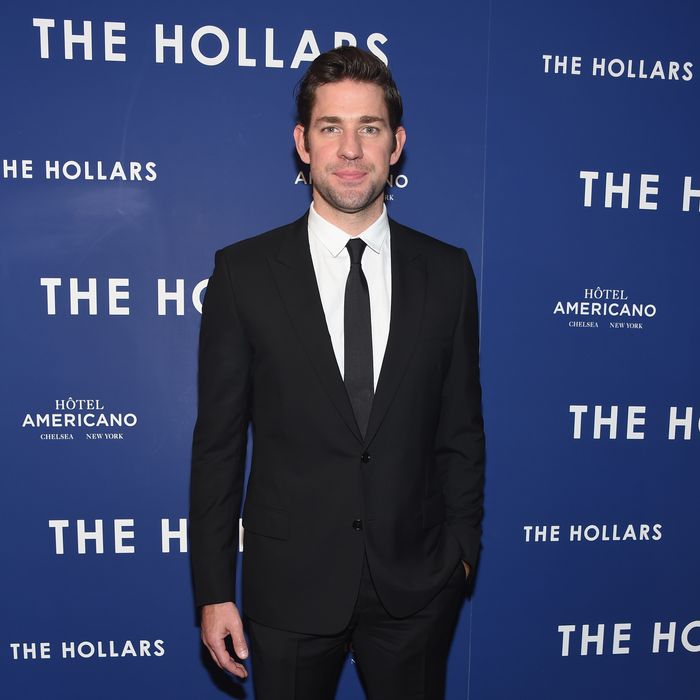 Talking parenthood at a New York screening of The Hollars.
Photo: Michael Loccisano/Getty Images
John Krasinski drew on his own experience to play the son of Margo Martindale, the strong-willed family matriarch in The Hollars, a film he directed and stars in. "I have a phenomenal relationship with my mom, and I'm lucky enough to have a matriarch and a patriarch in our family," Krasinski told the Cut at a Peggy Siegal Company screening on Thursday. He and Martindale had an instant connection. "Day one, we bonded as a family, and it was really kind of fascinating to see how fast we fell in love with each other," he said.
In the movie, about members of a dysfunctional family coming together when illness strikes, Krasinski's character is about to become a father for the first time. "My daughter was four and a half months old when I started shooting, so if I had shot this movie five months before, it would have been a totally different movie," Krasinski told us. (His first child, Hazel, is now 2 and a half.)
"So, yes, I'm relating to a guy who's on the doorstep of having a baby, like in the movie, but more importantly, I really started to feel this existential magnet pulling me to understand my parents more, to understand my brothers more, to understand my kids more," he said. "I was probably working out a lot," he added, laughing.
Working dads. Welcome to the club!