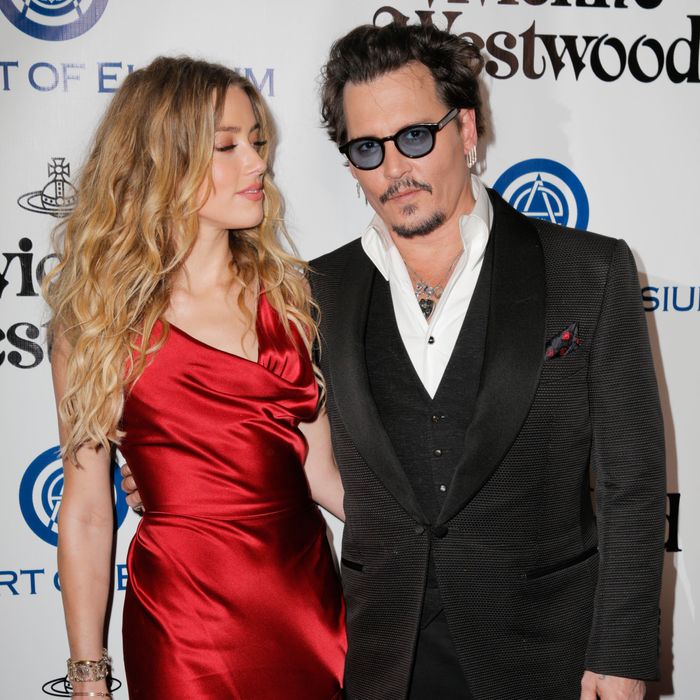 Amber Heard and Johnny Depp.
Photo: Alison Buck/Getty Images
Since Amber Heard filed for divorce from Johnny Depp in May, the case has, for the most part, played out in the press instead of in court. People has generally sided with Heard, putting a photo of her bruised face on the cover after she accused Depp of domestic abuse. TMZ, meanwhile, has supported Depp, taking care to discredit Heard with several stories. Next week, if no settlement is reached, Depp and Heard will finally go to trial. So what's going to happen?
So far, neither party has been deposed, which is causing tension on both sides. Heard was supposed to show up to a deposition today in Los Angeles at 10 a.m. PT, but, according to TMZ, she's in London right now … so that's not going to happen. TMZ reports that Heard's lawyers have claimed an unspecified "emergency" has kept Heard abroad. They have asked for Heard's deposition to be moved to tomorrow, when Depp is also scheduled to be deposed.
This comes after Heard missed her chance for a deposition last Saturday. Both sides agree she showed up for the appointment, but Depp's attorney Laura Wasser has claimed that Heard was too distressed to actually sit for questioning. According to legal documents obtained by People, Wasser said Heard sat in a room adjacent to the deposition room the entire time. From People:
Because the "offices are made of transparent glass," Wasser claims she could "quite clearly" observe "Amber hysterically crying and pacing in her separate conference room, or screaming and yelling at times and laughing at others."

Wasser adds that "she appeared manic and irrational" and that she "observed Amber's counsel trying to reason with her throughout the day."
Meanwhile, a source "close to Heard" told People, "Although Amber was ready, willing and able to go forward with her deposition, it was not taken by Johnny's attorneys. She waited for 10 hours and at no time did Amber ever refuse to start the deposition. There was nothing preventing Johnny's counsel from commencing the deposition during that time."
Both sides submitted witness and exhibit lists to the court earlier this week, should the case go to trial. Heard listed seven witnesses, including her friend iO Tillett Wright, who was on the phone with Heard during the alleged domestic-violence incident in May that left Heard bruised. Depp, meanwhile, listed 23 witnesses, including his ex-partner Vanessa Paradis and the two LAPD officers who responded to the 911 call in May. According to People, Heard "plans to put her estranged husband on the stand if the case goes to trial, and hopes to use medical records to prove she's sought treatment for alleged domestic violence incidents in the past."
The court may never hear from any of these witnesses, however. TMZ is suggesting that Heard and Depp are "close" to reaching a settlement in the case. The site reports that when Heard's lawyers asked for her deposition to be postponed today, they "attached a letter to the filing in which she accuses Johnny's lawyer of reneging on a settlement agreement. The letter is dated Thursday, August 11th. Johnny's lawyer, Laura Wasser, responds in a separate letter that the offer was sent to Johnny for his approval."
We will update this post as more information becomes available.