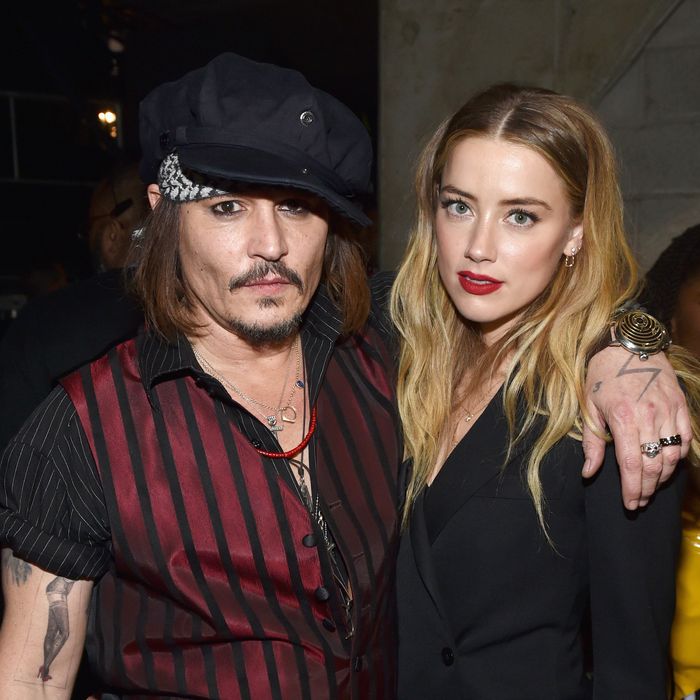 Photo: John Shearer/Getty Images
Here's the latest disturbing development in the divorce case between Amber Heard and Johnny Depp.
Last night, TMZ posted an upsetting video, allegedly recorded by Amber Heard on her cell phone, of a furious Johnny Depp having a tantrum in their kitchen. The gossip site reports that the video was allegedly recorded "months before the May 21 incident in which Amber claims Johnny struck her." It's unclear who leaked the video.
The actor is seen kicking cabinets and yelling, "Motherfucker!" while Heard asks him, "What happened? What happened?" He goes on slamming cabinet doors and what sound like glasses while she assures him, "Nothing happened this morning, you know that?" As he goes on slamming and kicking things in the kitchen, she tries to placate him, adding, "We're not even fighting this morning. All I did was say sorry." Eventually, it culminates when he sees he's being recorded, and he grabs the phone and smashes it.
TMZ has lately made a habit of supporting male celebrities accused of wrongdoing in the media, from Depp to Calvin Harris and Bradley Cooper. However, lest this come off as too anti-Depp, TMZ does have sources that said, "The video is 'heavily edited' and there are portions where Amber is seen smiling and egging him on. The sources add the video was a complete set up by Amber."