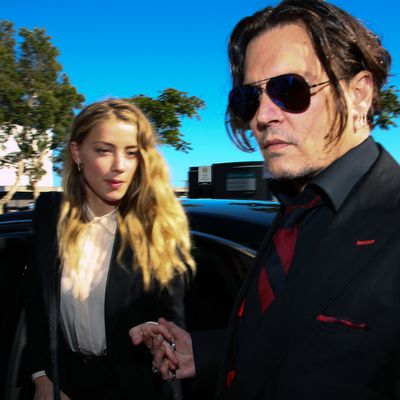 Photo: PATRICK HAMILTON/Getty Images
As TMZ predicted, Johnny Depp and Amber Heard have reached a settlement in their divorce case, which was scheduled to go to trial on Wednesday. The details: Heard withdrew her petition for a restraining order against Depp and dismissed the domestic-violence case against him "with prejudice," which means "she can never re-file it." Heard will get $7 million in the settlement. The estranged couple released a joint statement to TMZ about the divorce:
Our relationship was intensely passionate and at times volatile, but always bound by love. Neither party has made false accusations for financial gains. There was never an intent of physical or emotional harm. Amber wishes the best for Johnny in the future. Amber will be donating financial proceeds from the divorce to a charity.
When Heard filed for divorce in May, she accused Depp of being abusive throughout their relationship. Much photo and video evidence of his alleged abusive behavior has surfaced in the days leading up to the settlement, including a bizarre story about Depp writing messages to Heard in his own blood. It is not yet clear if Heard will be allowed to speak publicly about these incidents now that the case is settled.