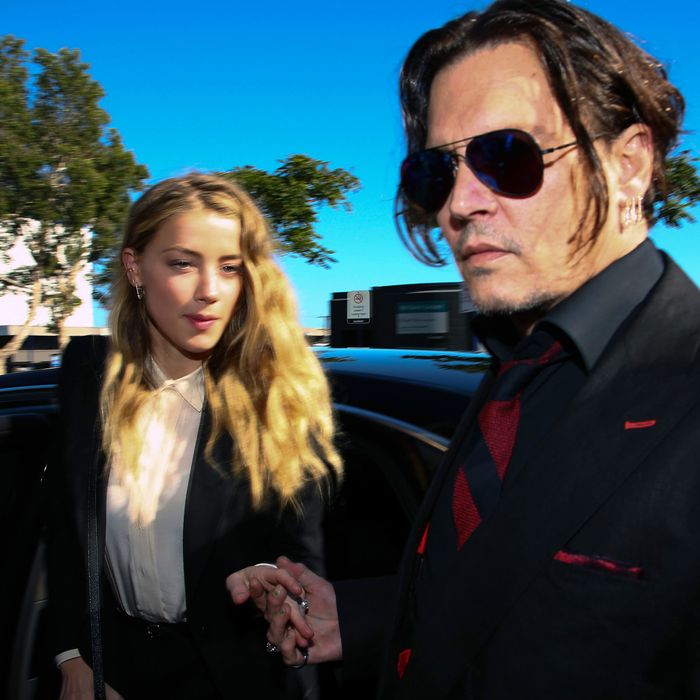 Amber Heard and Johnny Depp.
Photo: PATRICK HAMILTON/Getty Images
As the Johnny Depp and Amber Heard divorce case hurtles toward trial on Wednesday, photo and video evidence of Depp's alleged domestic abuse continues to leak to the press. Over the weekend, TMZ posted a video of Depp smashing glasses and yelling at Heard, and this afternoon, the outlet published even more disturbing evidence from an incident that occurred last March, just one month after the couple was married.
It's quite a story. TMZ reports:
Johnny Depp accidentally cut off his fingertip in a fit of rage … then dipped the stump in dark blue paint and wrote on the wall in paint and blood the name "Billy Bob" — the actor with whom Johnny accused Amber Heard of cheating — this according to Amber and her people. 
This allegedly happened when Depp was "drunk and high on ecstasy." During the argument with Heard, he allegedly "smashed several bottles and windows and also slammed a plastic phone against the wall unit," which caused him to lose the tip of his finger. According to Heard, he then dipped his "gnarly digit" into some blue paint and wrote "Billy Bob" and "Easy Amber" on a mirror. Depp had apparently accused Heard of cheating on him with Billy Bob Thornton.
What in the world?
TMZ has extremely graphic photos of Depp's injured finger as well as a photo of the mirror in question. Click here to see. Heard's legal team will use the photos as evidence at trial, if the case ends up going to court. According to TMZ, a settlement could happen anytime now.