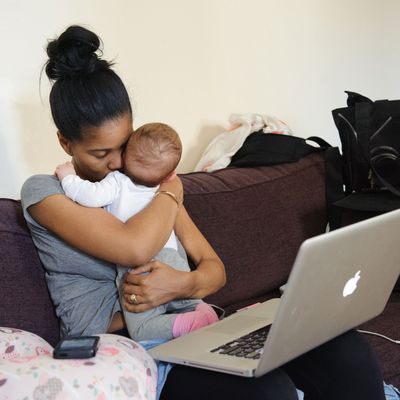 A mother and child
Photo: Alice Proujansky
One side effect of having a baby: You go from not caring about parenthood stories to caring about them greatly in a very short span of time.
I am willing to admit that narratives of motherhood didn't hold much interest for me before I became a mother, in part because I failed to find the right voices saying the right things and in part because it's just a very specific way of life: You don't care about parents until you're a parent.
But to my surprise, what I've found since I began writing about motherhood — and especially since I joined the Cut — is that all sorts of people are interested in parents and children and the topics that surround them, as long as no one is talking down to them.
The media is slowly starting to realize this, and to respond: Modern writing on these topics is more diverse and interesting than ever. In the past few years, dozens and dozens of writers have emerged who focus almost solely upon motherhood and the political issues that are integral to it. This has made writing about parenting not less interesting but more so, because we're not just voices in a vacuum: We're part of a conversation. And parents need conversations more than ever because parenting, in the 21st century, can often be isolating.
Which is why we've made a Facebook page dedicated to readers of the Cut who are interested in parenting. Here, you'll find New York Magazine's parenting coverage as well as other peoples' writing. We hope to use this page to start conversations with all of the parents out there who are reading and writing every single day.
There are more than a few studies, often written about with a hint of eye-roll, about mothers and how much they post on Facebook. It's a particularly fertile space for writing and sharing about motherhood specifically because it's geared toward communities and dialogue. While it's not always perfect, it's probably the best place on the web for complex, nuanced conversations about such a complicated topic. Some of the most heated — but also some of the most intelligent — responses to things I have written came not in the comments on the article, or on Twitter, but on Facebook: This is where most of the moms are.
At first, when you become a mother, you feel like a completely different person. But quickly, many of us realize that motherhood doesn't change who we are. It adds to who we are. Becoming a parent means becoming more powerful than one could have ever imagined, and becoming more in tune with our own mortality, humanity, and day-to-day emotions. Being a parent is hard, it's rewarding, it's really funny. It's an identity worth considering and writing about, not just for those of us who are writers, and not in a vacuum. I've always been a writer, but what I've realized since becoming a mother is that parenthood makes storytellers of us all.
The internet can be a shitty place — for everyone, not just parents. But it's also incredibly useful and beautiful sometimes, too. Hopefully, this Facebook page will become a place where we can talk about the things that matter to us, from the minute to the epic, and know that our voices are being heard. I'll be reading.
Join us right here to get started.