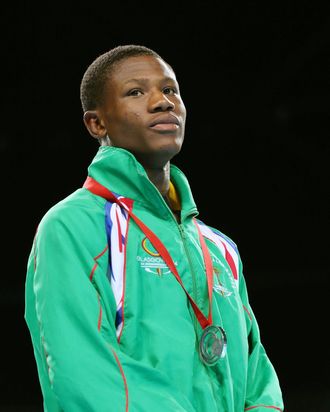 Jonas Junius.
Photo: Alex Livesey/Getty Images
Namibian boxer Jonas Junius, 22, was arrested for allegedly sexually assaulting a housekeeper in the Olympic Village. No, you're not hallucinating, this is the second athlete to be arrested on sexual-assault charges in less than a week. Moroccan boxer Hassan Saada, also 22, is being detained pending an investigation into his alleged sexual assault of two housekeepers in the Olympic Village.
The woman accused Junius of grabbing her and trying to kiss her as well as offering her money for sex. There are reports that he will be transferred to Rio's Bangu prison later today; he has yet to face a judge.
Junius had the honor of being selected as Namibia's flag-bearer during the Opening Ceremonies on Friday night, and his first fight was slated for Thursday.