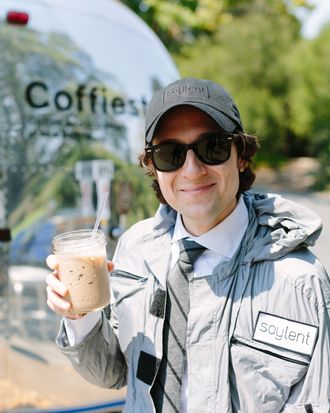 Actor Josh Brener
Photo: Courtesy of Soylent
As if we needed another reason to believe Soylent is a glorified meal replacement men will only drink because it's marketed as tech, yesterday's promotional tour was even more proof. The company's founder, Rob Rhinehart, and Silicon Valley star Josh Brener geared up in futuristic outfits designed by Berlin-based Nhu Duong. Their mission: to deliver Coffiest to eBay and Go Daddy's offices in San Francisco.
Coffiest is basically just coffee mixed with Soylent, and considering it's being called a "Metamucil Frappucino," it'll take more than a man in uniform holding a mason jar to get us to take a sip. Maybe if you got Joaquin Phoenix in Spike Jonze's imagined dystopia to serve it up, that would work?
We do look forward to seeing these suits on the health-goth crowd this fashion week, though.