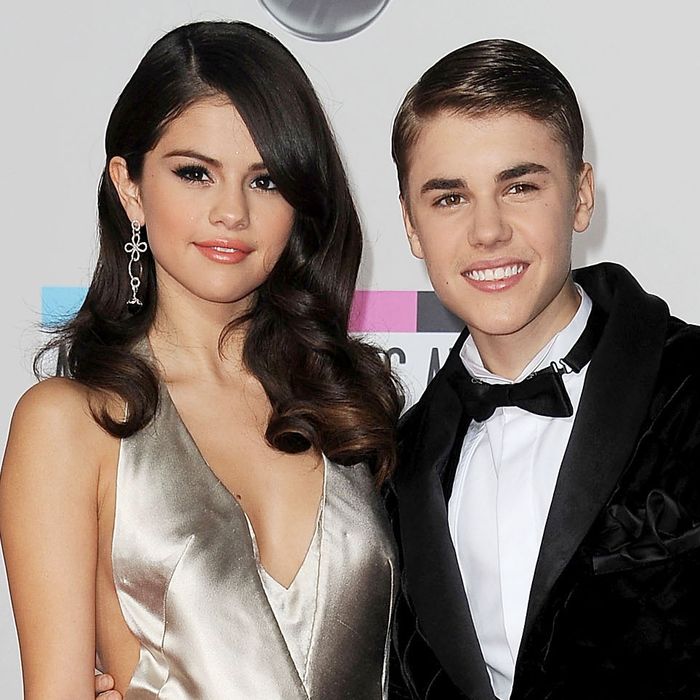 Selena Gomez and Justin Bieber.
Photo: VALERIE MACON/AFP/Getty Images
Increasingly sensitive international pop star Justin Bieber deleted his Instagram account sometime late last night or early this morning, after a days-long social-media melee with his ex-girlfriend and fellow international pop star Selena Gomez. What will the Beliebers do now?
The drama started because of these rabid fans, basically. Over the weekend, Justin posted several photos of his new, barely legal girlfriend Sofia Richie, and the Beliebers freaked out because … they all want to date Justin themselves, I think. Then Justin threatened to delete his Instagram (the first sign of the apocalypse). In response, Selena allegedly posted some rude things on Justin's Instagram, and then Justin commented some rude things back.
Also, Justin allegedly unfollowed his other ex-girlfriend Hailey Baldwin, which upset Hailey Baldwin. A source close to the model told People, "Justin unfollowed Hailey on social media, and now all their friends are talking shit on Sofia and him and how messed up it is … out of nowhere, Sofia apparently made him unfollow Hailey and now she and her friends are all super upset."
Hailey posted one of those deep-quote Instagrams about it, but then she deleted it and posted this instead:
And then, last night, Selena Snapchatted a public apology. "What I said was selfish and pointless," she wrote.
Too late: Justin Bieber doesn't have an Instagram now.
This seems mostly the worst for Sofia Richie.