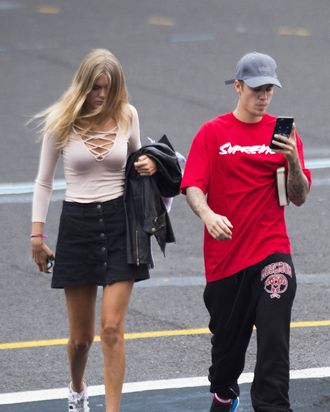 Justin Bieber and Bronte Blampied.
Photo: Xposure / AKM-GSI
Justin Bieber. Selena Gomez. Sofia Richie. Hailey Baldwin. "A source close to Hailey Baldwin." These are the names of the young people who were involved in a serious Instagram drama last week that ended with Justin Bieber deleting the app altogether. This weekend, a new name was added to the mix: Bronte Blampied.
Bronte Blampied!
According to the Daily Mail, Bieber has been going out clubbing in London with a young model named Bronte Blampied. His supposed girlfriend Sofia Richie, meanwhile, has been going out not clubbing in Los Angeles (she is 17). Bronte Blampied's age is unknown.
In the past few days, Blampied and Bieber — Blampieber? — have been spotted at London's Tape nightclub, the "V Festival," and Tape nightclub again. Blampied also attended that infamous party in Hawaii two weeks ago, where Bieber posed nude for paparazzi.
Does this mean Bieber has dumped his teen girlfriend for somebody named Bronte Blampied? What will Selena Gomez and Hailey Baldwin and a source close to Hailey Baldwin say?
Only one thing is for certain: Bronte Blampied likes açai bowls. Check out her Instagram below.