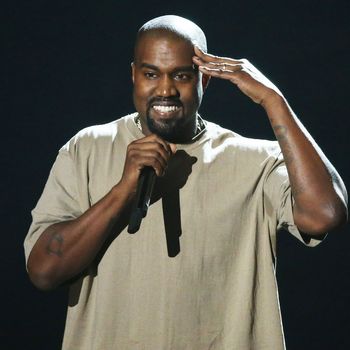 Photo: Michael Tran/Getty Images
According to TMZ, at this year's MTV Video Music Awards, Kanye West will be given four solid minutes of stage time to do whatever he chooses. At last year's VMAs, if you recall, Kanye West announced that he would be running for president in 2020 during his acceptance speech for the Video Vanguard Award. What will Kanye do with four minutes of free time this year? Let's speculate.
• Repeat his speech from last year word-for-word.
• File his taxes.
• Play his favorite song from the new Frank Ocean record.
• Make a baby.
• Endorse Donald Trump then eat a flaming bowl of bibimbap.
• Tell us everything he knows about Taylor Swift (please, this one).
• Bust out several Super Soakers and just get the crowd freaking soaking wet, yelling "Partyyyyy!!!!" over and over.
• Explain his nighttime beauty regimen in a step-by-step PowerPoint presentation.
• Denounce Vanessa Beecroft.
• Defend Vanessa Beecroft.
• Talk lovingly about North and Saint.
• Teach the audience his favorite recipe for pasta puttanesca.