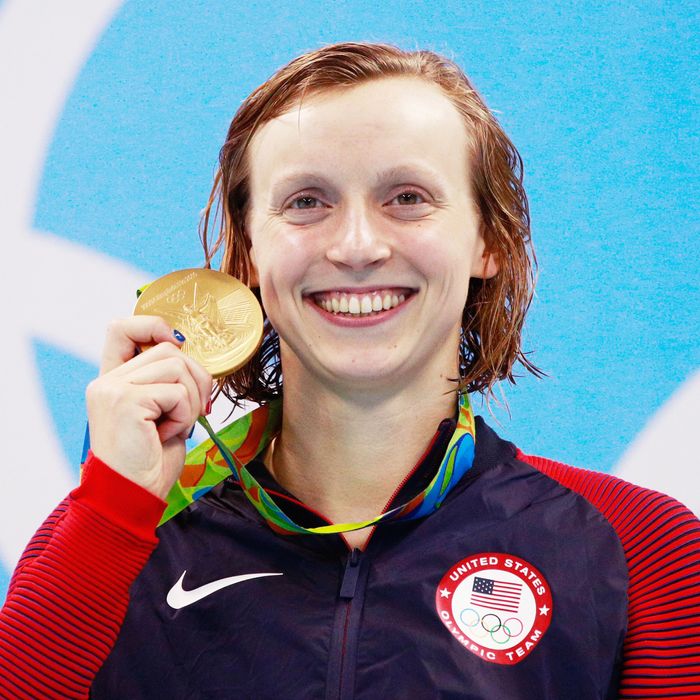 Photo: Adam Pretty/Getty Images
American swimmer Katie Ledecky, the hero of the Rio Olympics, has won three golds so far (and broken her own world record), and will probably win a fourth in the 800-meter freestyle on Friday. And why does Katie Ledecky keep winning? Because she's out there doing the goddamn work.
Ledecky's coach, Bruce Gemmell, posted this photo of her still training at 1:15 a.m. this morning — peak Tindering hour in the Olympic Village — an image destined to become an "Effort" poster in high-school classrooms nationwide.
There are a lot of big personalities in the pool this year — Phelps with his Sith Lord getup and braggadocious victory celebrations, Lilly King with her Cold Warrior finger-wagging, Ryan Lochte, who didn't read the instructions on the dye kit — but Katie Ledecky is the Olympic hero we need. She doesn't have time for pettiness or shtick or boasting (or, for that matter, endorsement deals). She's too busy doing the goddamn work.
Here's Michael Phelps talking about the new face of American swimming:
"She does the work, and it shows."
And here's what Katie told the New York Times upon hearing that some men get upset when she beats them in practice:
"I was probably just concentrating on doing my own work."
This has been a Katie Ledecky–inspired PSA: Do the Goddamn Work.