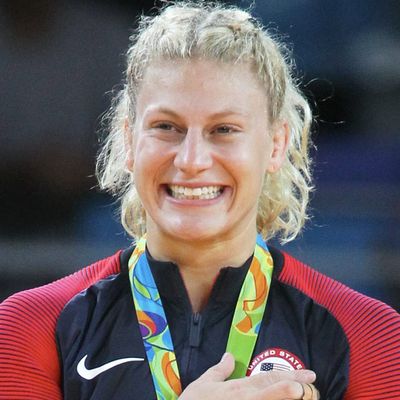 Kayla Harrison's Big Mac dreams were shattered.
Photo: Getty Images
The prospect of free McDonald's inside the Olympic Village has led to football-field-length lines of athletes making monstrous orders. Which is fine for Olympians who would rather wait for 30 minutes than eat at the dining hall — and compete on a diet of fries — but very annoying for those, like judo gold medalist Kayla Harrison, who just want to celebrate with a single, precious cheeseburger. Is that so much to ask?
Apparently, yes. She told Time about her visit to the Golden Arches:
"Oh my God, it pisses me off," judoka Kayla Harrison says of the long lines. "It's insane." Two days after becoming the first American to win back-to-back judo gold medals, she tried to sate a long-denied craving for a Big Mac and McFlurry. "We went and stood in the line for ten minutes, and we were like, 'OK, we're not doing this,'" says Harrison. "People were walking by with three bags. They must be like, 'I'll have 24 cheeseburgers.'"
McDonald's recently capped orders at 20 items, so maybe it's worth trying again, Kayla. Here's hoping you're not in line behind a bunch of swimmers.