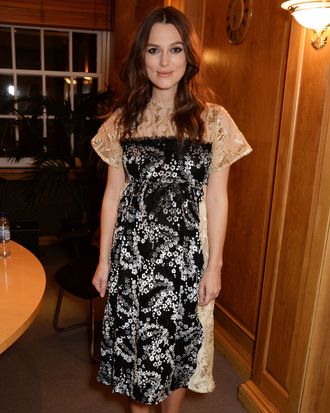 Photo: David M. Benett/Getty Images
It's part and parcel of celebrity culture to ask actresses about their beauty regimen. And it's pretty standard for said celebs to dole out some advice, name-drop some product endorsements, and be done with it. Much rarer, though, is the Hollywood starlet who opens up about anything less than glamorous regarding their beauty routine.
But that's pretty much what Keira Knightley did in an interview with InStyle UK. In the interview, the actress spoke off-the-cuff about her hair loss over the years and how — to everyone's surprise — she's been wearing wigs for the past five years.
"I have dyed my hair virtually every colour imaginable for different films," Knightley told InStyle UK. "It got so bad that my hair literally began to fall out of my head! So for the past five years I've used wigs, which is the greatest thing that's ever happened to my hair."
It's not exactly surprising that a woman — especially an actress — might wear some type of wig or hair extensions to get the perfect look. Usually, though, it's pretty obvious when wigs and/or weaves like are involved. It's the switch from an auburn color one day to platinum blonde the next. It's the miraculous growth from a bobbed haircut to flowing locks within a span of hours. It's usually those kind of changes, the dramatic and sudden, that are the telltale signs of some fabulous, fake hair. That Knightley has stuck to her brunette hair color over the years made it easier to not catch on to her beauty trick.
Now that Knightley is a mother, however, her hair growth has accelerated, she told the magazine. So much so that her naturally curly hair is getting tangled into little dreadlocks.
How's that for a change?