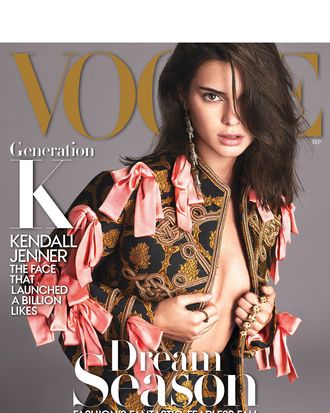 Photo: Mert Alas and Marcus Piggott/Vogue
Two years ago Kendall Jenner made her first appearance in Vogue's September issue, as a small image proclaiming the scarf was the new necklace. Then in April of this year they devoted an entire "special issue" for subscribers to her. So it was only a matter of time before she appeared on a proper cover and it's the big September one, wearing Gucci.
In the accompanying profile, writer Jonathan van Meter spends quite a bit of time with Jenner, eating dinner with her at mom Kris's place and meeting with her as she walks Paris Fashion Week. But it's during a pretty normal, mostly paparazzi-free morning with Jenner that he might have seen his life flash before his eyes.
They meet at Kendall's apartment before she takes out her vintage 1957 Corvette Stingray for a spin. The pristine robin's-egg-blue car is a collector's dream and a modern safety- and environmentally-conscious driver's nightmare —
How it was in 1957: no seat belts; one rearview mirror the size of a lady's compact; an AM radio; an engine that burns through a tank of gas on a trip to the grocery store.
And it sounded like van Meter might have been just a bit terrified to be in it —
We pull up to another stoplight just before an entrance ramp to the 405. "Time to put my hair up," Kendall says as she pulls a rubber band off her wrist. Just as she is about to accelerate, a pedestrian appears out of nowhere to cross the street. "Excuse me, sir—little blue car coming through!" Kendall yells, and then floors it. Soon we are roaring along at 70 miles an hour through several lanes of traffic lousy with freight haulers and tailgating commuters. I reflexively reach for the seat belt that isn't there when it dawns on me: I am in a death trap. I would feel safer going over Niagara Falls in a wooden barrel. "You've got to be committed when you get in this thing," Kendall says with a knowing smile. "You have to know what you're getting yourself into."
In case she decides to be less committed to this modeling thing, it sounds like she could easily join the next Fast and Furious sequel. Free idea: drag race with Helen Mirren.