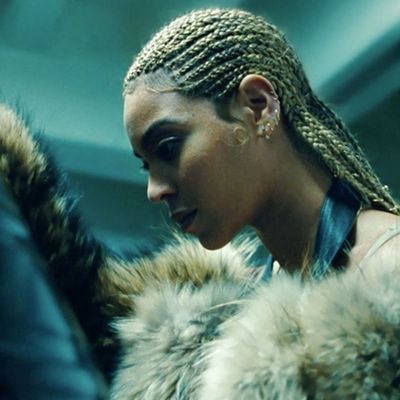 Braids like Beyoncé's? Outlawed.
Photo: Courtesy of HBO
Recently, the 15-year-old daughter of Attica Scott (the Kentucky State Legislature's first female African-American elect in 20 years) brought home a pink slip of paper outlining her high school's new dress code. It banned natural hairstyles mostly worn by the school's black students.
"No dreadlocks, cornrolls [sic], twists, mohawks, no jewelry will be worn in the hair. No braids will be allowed on males," the flyer, from Louisville's Butler Traditional High School, read. Students coming to school with these hairstyles wouldn't be allowed into classrooms until "their attire is corrected. … We feel that a student's academic success is directly correlated to appropriate attire and appearance."
Scott posted a photo of the flyer to Twitter last week, pointing out that the new rules banned hairstyles worn by Beyoncé, Oprah, and Maya Angelou. It sparked a firestorm of tweets — from other parents, the American Civil Liberties Union of Kentucky, and others.
The school district's own chief equity officer posted a photo of his three daughters' cornrows and beads.
"They specifically outlined hairstyles that are worn most by black kids," Scott told the Courier-Journal. "To me, this stinks of institutional racism."
The school suspended the policy last Friday, igniting more outrage by not allowing anyone to address the school board. Tonight, students and parents will finally get to speak at a school board meeting, where an updated version of the dress code's hair policy will be proposed. Those changes are still painstakingly strict:
Hair must be well-groomed, well-kept and at a reasonable length; reasonable length for males means hair no longer than three inches and must be above the collar, the ears and the eyebrows.

Both males and females must have a natural hair color. No unnatural hair colors (e.g. pink, orange, green, purple, blue, etc.). No severe contrasts.

Hair must be free from designs, names or lines cut into the hair. One straight line is permissible to be cut into the hair for a part.

Females only may wear headbands. (The headbands) must be worn in the hair, not across the forehead.

Bandannas are not allowed.
In response to the controversy, the Jefferson County Public Schools district said the new hair policy was approved only at Butler Traditional High School, by a School-Based Decision Making Council (SDMC) task force of teachers, parents, and administrators. Other schools' SDMCs have been asked to reassess their dress-code policies "through the lens of embracing diversity," superintendent Donna Hargens told the Courier-Journal.