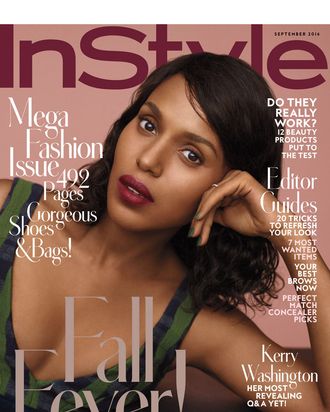 The talented Kerry Washington is on the cover of the September issue of InStyle, thankfully looking more herself than last spring's cover of the same magazine. In the story, Washington talks about her experiences as both the only woman in the room and the only person of color in the room, and to both, she says it's high time for a change.
At her all-girls NYC private school Spence School, Washington learned that one woman in the room is not enough: "Being the one woman in the room should not be seen as a victory," she said in the interview. "If there's only one of us in the room, we're still a token; we don't actually have an empowered voice. If there's two of us, we're still a minority. If there's three … then we're allowed to have a multiplicity of opinions." But Washington also saw a lack of multiplicity of opinions during her time at Spence, too:
"From the time I was 11 or 12, everyone [at school] was like, 'You are so lucky to be here.' And I was lucky, but so were they," she says. "They were lucky I was there because I gave them an expanded idea of what humanity looks like, feels like, and how it expresses itself." Imagine going to school with Kerry Washington and not considering yourself lucky.