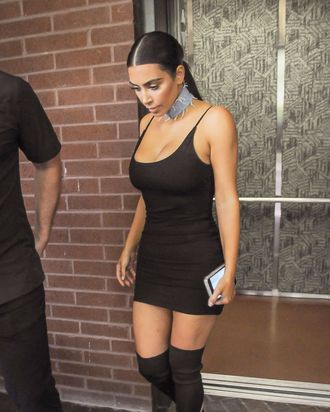 Kim Kardashian.
Photo: BG002/Bauer-Griffin/Getty Images
Kim Kardashian is one of the best celebrities of all time, and I love to know everything about her. It's fun to see her outfits each day, to see her daughter's outfits each day, and to read all about her deceased pets. Kim's Snapchat, in particular, is a well of great content, which tabloids draw from regularly for their stories about her. Unfortunately, it's gone one step too far.
Kim has lost a considerable amount of weight since she gave birth to her second child, Saint, and she is proud of it, which is great. In the past week, she has posted several updates about her weight loss on Snapchat, including a photo of her scale. The tabloids jumped on it immediately:
"Kim Kardashian Brags About 125.4 Lb Weight: Still Has More To Lose — See Her Goal"
"'I haven't been this in years!' Kim Kardashian reveals she's almost at her goal weight as she gets down to 125lbs"
"Kim Kardashian Reveals She Weighs 125 Lbs."
"Kim Kardashian reveals she's 125lbs, but STILL isn't done with weight loss as she opens up about body insecurities"
When I read these, I realized: I love to know everything about Kim Kardashian except her exact weight.
Then she lost another pound:
"Kim Kardashian Shows Off Her 'Crazy' Body in LBD — She's Down to 124 Lbs.!"
"Kim Kardashian Drops to 124 Lbs, Looks Skinnier Than Ever in LBD: 'Doesn't My Waist Look Photoshopped?'"
Those are just headlines from this morning. In all likelihood, we will be reminded of Kim's new weight several times today, once the other tabloids prepare their posts about it. This is oppressive. What if Kim loses another pound? I am worried that for the rest of our lives we will always know exactly how much she weighs, because she will post about it every day, and then a bunch of other places will post it, etc., and then we'll be dead. Even her minor body details can drive an entire news cycle:
"Mayday: Kim Kardashian Lost So Much Neck Weight Her Chokers No Longer Fit"
"Kim Kardashian Measures Her Neck Fat With a Choker: Watch"
"Even Kim Kardashian's Neck Has Lost Weight"
"Kim Kardashian Shows Off Her Super Thin Neck and Tries Cupping for the First Time"
To be fair, the Snapchat video in which Kim originally revealed the fact of her neck weight loss was funny:
But I only needed to see it one time.
More than one Kim Kardashian weight-loss update per day is too much.