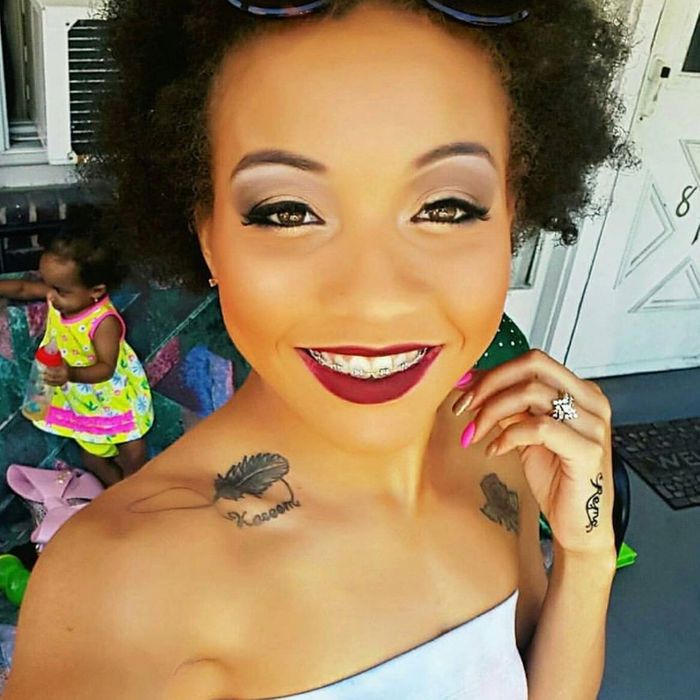 Photo: Courtesy of Facebook/Korryn Gaines
On Monday, Baltimore County police killed Korryn Gaines, a 23-year-old mother, after a nearly six-hour standoff in Randallstown, Maryland. Gaines's 5-year-old son was also shot, though his injuries weren't life-threatening. Police allege that Gaines pointed a gun at officers and threatened to kill them, but there is no video evidence of what actually happened. Gaines did document some of the standoff from her point of view in videos posted on Facebook and Instagram, but after a request from police, they were removed from the sites.
This summer, videos of police violence have become an all-too-familiar trend. Because of the massive distrust between people of color and law enforcement, people often feel like recording police encounters is the only way to make their experiences known, and videos were what started the calls for justice for Alton Sterling and Philando Castile. So the lack of video evidence makes this case especially frustrating, as does the knowledge that Gaines was the ninth black woman to be killed by police this year.
By mid-afternoon, Gaines had allegedly pointed her gun at an officer, saying, "If you don't leave, I'm going to kill you." Another officer opened fire, and Gaines shot back. Her son was wounded in the shoot-out, and police say they're not sure who shot him.

"We are of course extremely upset at an event like this," police spokesperson Elise Armacost said at a press conference. "We do not like to be in a position of having to use lethal force, but this was a situation where our officers exercised patience for hours and hours."
But since there is no video proof of this happening, the family of Korryn Gaines wants to know why such lethal force had to be used. Dawn McGee, Gaines's aunt, told a Baltimore TV news station, "We see hundreds of videos where these people are taken into custody without harm. What was so different in this situation? If they truly felt like something was wrong with her, then address her accordingly."
Baltimore County Police Chief Jim Johnson says the officers weren't wearing body cameras — an odd coincidence that keeps occurring. And Armacost, the police spokesperson, explained that Baltimore County's body-camera program is only a month old, which is why not all officers are currently equipped with them. The videos Gaines posted on Facebook and Instagram, including one in which her young son says police are "trying to kill us," were taken down after officers requested their removal.
Gaines was a vocal critic of the police. According to the Baltimore Sun, when she was pulled over in March, she had a cardboard sign in her car in place of a license plate that stated, "Any Government official who compromises this pursuit to happiness and right to travel will be held criminally responsible and fined, as this is a natural right or freedom."

Police cited her for the missing plates and because the car hadn't undergone a recent emissions check, but Gaines refused to get out of the car, instead recording the encounter. She told police officers that they "would have to murder her to get out of the vehicle," which ended with officers arresting her by force, removing her infant child from her arms, and pulling her out of the car. She suffered a miscarriage after the incident, for which she blamed the police — one of the reasons her family has been adamant about making sure her story is heard.
Because of the publicity surrounding this case and others, it's become more apparent that it's not just black men getting killed by the police. Eight of the nine black women killed by police this year were armed, but that certainly didn't ensure them a safe space (and you can bet the NRA hasn't been offering any sympathy).

For their part, the police officers said they feared for their own lives, and that since Gaines was armed they had no other choice but to fire. Meanwhile, Gaines's son is now forced to live a life without his mother.
We're left with questions about what is legally reasonable for police to perceive as a threat, and why are black women disproportionately targets of police violence? The events of this summer have also inspired discussion about the dehumanization of people of color, with videos of their killings displayed on the news in a constant, often traumatizing, loop. But so far, it's amounted to public awareness that people of color are in danger, but with no real actions or solutions offered. In a predictable move, Baltimore County has placed the officers involved in Gaines's shooting on administrative leave. In the meantime, I'll keep saying Korryn Gaines's name, because there are clearly some missing details that we may never know.